Are You Traveling to Sedona AZ? Here's The Closest Passenger Airport!
One of the most common questions our Airport Shuttle of Phoenix drivers get asked frequently is what is the closest airport to Sedona? Most people who travel to Sedona prefer flying into Phoenix Sky Harbor Airport purposely because it is not far from Sedona - one taking just about 2 hours by road. The airport boasts as one of the busiest in the world, coming in as number 11 in the rankings. With over 1500 flights arriving and departing from the airport, it is without a doubt it is also one of the most famous tourist destinations, ideal for business ventures and residents can visit the area as well.
Sedona Is Surrounded By Beautiful Red Rocks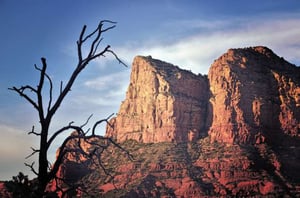 Based in Arizona, United States of America, Sedona is a beautiful town surrounded by amazing and good for the eye red rocks. The town boasts playing host to some of the country's best art galleries, distinct cultural events such as the Sedona International Film Festival and famous Jazz events. Tourists visiting the area benefit from exceptional outdoor activities such as bike riding, mountaineering, and off-road driving. Moreover, the town has some fantastic landscapes that visitors can go sightseeing, and the natives are very welcoming.
Arizona is also famous for its amazing warm weather that continues throughout the year. The only weather changes in the region are the regular highs and lows, all of which depend on where you are situated in the desert. For instance, if you are located in the deepest parts of the desert, you will witness temperatures of up to 125 degrees Fahrenheit during the summer. On the other hand, the same location sees its temperature drop to 35 degrees Fahrenheit below zero during winter. In that case, if you intend to stay in the most popular parts of Arizona, you will find soothing conditions that range from 70 to 80 degrees Fahrenheit in most times of the year.
Why Use Our Transportation Services?
Use our Sedona Shuttle services to ensure that you remain very comfortable, especially with our door to door services. We also have more excellent vehicles that we use to transport our visitors without making regular stops. Depending on your needs, we can pick you up at your preferred place in Arizona at any time of the day. We also take it upon ourselves to drive you back to your home, unlike other companies that may abandon you at a bus stop or make regular unnecessary stops thereby inconveniencing you. Our transport services are also convenient as we do not pack you in overloaded vehicles that make stops anywhere. As aforementioned, our services are available at any time and you can contact us at 7 pm on the day that you are supposed to travel.
How Long Does It Take to Travel from Phoenix to Sedona?
Under normal traffic, it takes about 1 hour 40 minutes to travel from Sedona to Phoenix or vice versa. However, you will take about 3 hours 30 minutes to travel the same distance under the same conditions with a bus or shuttle because of their many stops. During rush how, the journey is even longer by about half an hour. Given the regular stops made by buses and shuttles, choosing our services will ensure that you are not late and you remain comfortable throughout the journey. On top of all this, we provide 24/7 shuttle services that can go to any address in Arizona. No bus stops, no long waiting, we are the perfect choice for those seeking the best Shuttle Phoenix to Sedona ride.