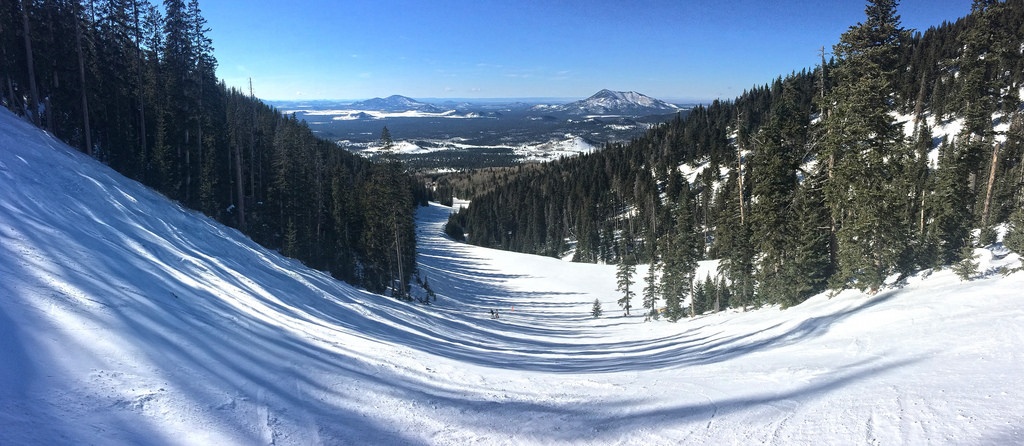 If you are living in Phoenix or landed on PHX Sky Harbor International Airport, looking forward to travel to Flagstaff, customers prefer Flagstaff Shuttle service because we are non-stop and you don't have to share. The buses and other shared ride companies stop everywhere and wait for people to show up meaning that it can take about twice as long to get to Flagstaff or Phoenix. Flagstaff Shuttle service is the ultimate shuttle from PHX to Flagstaff, providing the fastest and safest way for all the customers. Book ahead of time if you are planning to travel to Flagstaff, and relish the experience of tremendous ride. Don't get dumped at a Denny's, gas station or bus stop.
Distance and Time:
How far is Flagstaff to Phoenix, AZ? From PHX Sky Harbor International Airport to Flagstaff the distance is 148.1 miles. How long does it take? If you booked a car to avail our Shuttle Phoenix to Flagstaff services, then it will take around 2 hours and 15 minutes to reach Flagstaff in normal traffic. If you are on a bus or a passenger shuttle operated by a different company, then it will take 4 hours and 30 minutes to reach the desired location. We are the fastest among all the service providers here in Phoenix, and unlike other companies we operate 24/7. Keeping in mind the rush hours add an average of 30 minutes in the time required to reach the location i.e. Flagstaff, AZ.
We also facilitate our customers if the flight is delayed, so for domestic flights we pick you up 30 minutes after you land and for international flights we pick you up 45 minutes after you land to provide the best possible service.
Pricing:
We offer 10% off on reservations booked online, fixed pricing or flat rates, and on certain occasions we do offer free upgrades to non-stop and additional discounts on long trips or rides with a lot of people. This facilitates our customers more than any other taxi service provider or shuttle service provider. We provide promo codes that helps lower the price of your ride or tour. Moreover, if you take a round trip, you get a 10 percent discount both ways, that is more than any other service provider. All you need to do is to use the appropriate address, so that pricing can be done accurately and fairly. You have many options to save money and enjoy the beautiful journey including senior and military discounts.
Drivers:
The divers we hire are professionals and most have experience of more than 10 years. They keep in mind the comfort level that is required by you while travelling. Speed is what matters the most, so they drive carefully and drop you at your desired location within the allotted time frame. They are trained by other experts of the road rules and company's policies, which they are obligated to follow.
So, what are you waiting for, get our services today if you are wanting to travel from Flagstaff to PHX Sky Harbor International Airport.