Waterfalls are a torrent of water falling from a height, which further merges with rivers or streams. The sight of water falling gives you the most pleasing and relaxing feeling. One could just spend hours listening to the dripping of the water through the rock beds creating its path into the larger water bodies. Arizona has many such dreamy falls to give you the relaxing vibes of vacation with perfect photography spots to light up your social media.
Here are the top 5 waterfalls that are worth your time.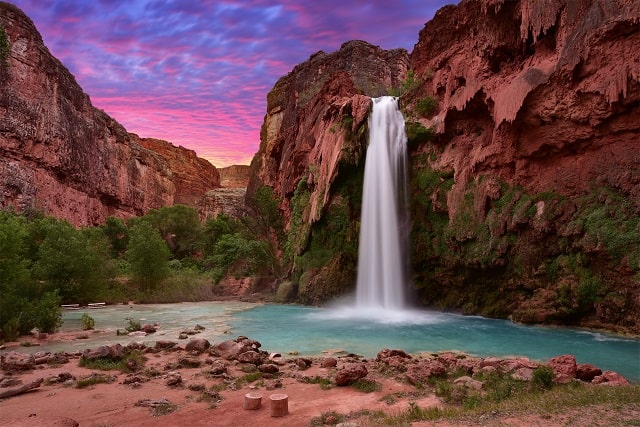 1. Havasu Falls
This fall is also popularly called Havasupai Falls. This hidden gem is located amidst the grand canyon. The water drops from over 27 or 30m. It requires a 10 miles hike to reach the fall, but the hike is worth it. The vibrant blue-green color of the water feels like an invitation, seeming all worthwhile. This place has many picnic tables spread over to enjoy family outings. Make your camping site reservation before to avoid any rush due to the crowd that gathers there. Animals found here are Desert Bighorn Sheep and Mountain Lions.


2. Beaver Falls
It is a perfect combination of trek and camping as this place requires an 18-mile trek to reach the best spot. To make it easier to descend, there are bolts, chains, and ladders. But before descending, take a swim into the refreshing pool, whose water cascades over limestone terraces. But to visit beaver falls, one must already be camping at Havasu, as the tribe does not allow day hikes into the canyons. The animals seen here are Coyotes and Foxes.
3. Fossil Creek Falls
This fall can be reached via a short one-mile water trail that will take you to the creek and the scenic waterfall. This is a hidden gem that has a drop of 25 feet. The animals that are found here are Porcupines and Jackrabbits. This place has many swimming spots to energize you after the trek.


4. Cibecue Falls
This is the most challenging waterfall in Arizona to reach. As it has a difficult trek of 4 miles but the result is worth a visit. This hidden gem gets you drenched as you hike between banks and boulders just to end up reaching a 30-foot fall. The animals seen here are Mules and Elk. This fall gives you a chance to see the unseen part of Arizona.
5. Deer Creek Falls
This fall is a 180-foot waterfall that plunges into the Colorado river. This place requires a schedule of five days and four nights to get to the fall and back. You can reach there through an adventurous trek or white water rafting. The animals seen here are Black Bears and Ringtails.
Arizona shuttle will be your travel partner in ensuring your safety as our services are door-to-door pick and drop, flexible as and where requires a change in date and time without any charge, and at affordable prices. We provide SUVs, shuttle service, and pre-booked limos. Book your ride to enjoy the vacation vibes.