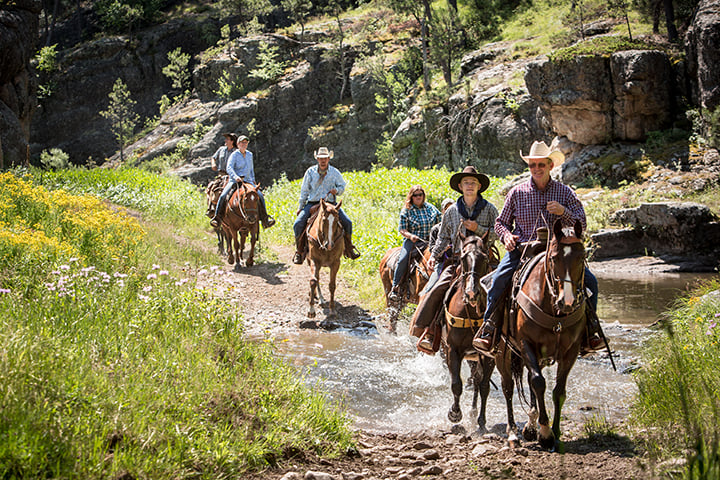 Spend your holidays and vaccinations enjoying these adventures and tours with your family and loved ones.
Scenic Horseback Adventure
It is a 1 hour guided horseback ride of the VerdeValley. They have different options for beginners, families, and children. The journey will help you explore the natural habitats of flora and fauna. The location will give you the old west feels, including western facades, horses, chickens, goats, and cows. You'll be given helmets for safety purposes, and you can click selfies or give the horses treats. During the journey, you will come across many scenic views.
Flagstaff History Segway Tour
Know the history of the flagstaff area on the fun rides. The touring company offers different touring options, one of which is the Segway PT tour, where you'll come close to knowing the histories and stories of the town.
Haunted History Tour
You'll be learning about the haunted history on this walking tour. When we say haunted, we refer to the robberies, murders, and suicides that had taken place and give you in-depth details. The train depot of 1926 and the hotel monte vista buildings are known as supernatural hotspots. These places are seldom seen before in the town. The town survived with ghosts rather than becoming a ghost town. So visit the tragic and superstitious locations to know the horrifying stories.
This adventure course is bound for the age of 12 and above as it requires physical and mental strength to complete the course. The duration of this adventure can take approx. 3-4 hours with an order of completion that is higher and harder. The extreme course includes multiple circuits with 15-17 obstacles and zip lines. You are given a prior training session and then gradually rise to higher and more challenging obstacles.
Self-Guided Audio Driving Tour
The self-guided tour takes you through Sedona's majestic red-rock scenery, with many other famous attractions like renowned vortexes, natural water slides, and the most photographed sights of viewpoints. This audio tour takes you to many places that could be discovered on your road trip. Here you won't be bound to time and can explore the locations of your interest as long as you wish. The offline tour automatically plays stories, tips, and directions based on your location. You can choose half, full or multi-day tour itineraries with no time limit or expiry.

Arizona shuttle gives you services with expert drivers and budget-friendly prices. We provide SUVs, Shuttle services, and pre-booked luxury cars to fit your needs and comfort. Our drivers will pick up and drop you at your doorstep, ensuring the fastest trip. You can make changes to the date and time without any charges. So book your ride today, and for more information, contact (480) 710-3441.