Arizona is famous for its stunning natural beauty, from the Grand Canyon to the Sonoran Desert. But did you know that the state is also home to fantastic hot springs? These natural pools of warm, mineral-rich water are the perfect spot to relax and unwind, and Arizona Shuttle can take you to some of the best ones. Here's a guide to Arizona's best hot springs: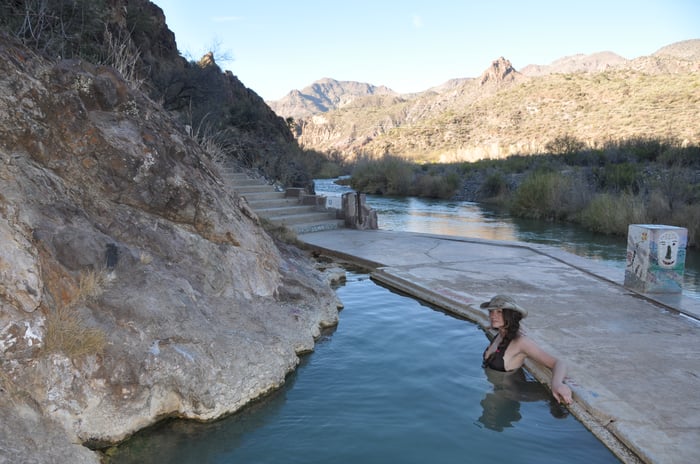 Verde Hot Springs
Along the Verde River, Verde Hot Springs is one of Arizona's most famous hot springs. The pools are situated in a lush canyon, surrounded by towering cliffs and verdant foliage. You can take a scenic shuttle ride with Arizona Shuttle to get there.
Castle Hot Springs
Nestled in a secluded canyon, Castle Hot Springs is a luxury resort with a long history of attracting visitors seeking relaxation and rejuvenation. The hot springs were discovered in the late 1800s and were known as a healing spot for their therapeutic mineral content. Today, guests can stay overnight in a luxurious cabin or enjoy a day trip.
Agua Caliente Hot Springs
Located in the Sonoran Desert, Agua Caliente Hot Springs is a peaceful oasis where you can soak in warm mineral water and enjoy the surrounding natural beauty. The hot springs are in a historic resort dating back to the 1800s, making it an excellent spot for history buffs.
Roper Lake Hot Springs
Roper Lake Hot Springs is a hidden gem located in southeastern Arizona. The hot springs are situated on the shore of a tranquil lake, and towering mountains dominate the surrounding landscape. Take a relaxing dip in the pools, or rent a paddleboat and explore the lake.
Arizona Hot Springs
Located in the Lake Mead National Recreation place, Arizona Hot Springs is a popular spot for hikers and outdoor enthusiasts. The pools are situated in a stunning slot canyon, and the hike to get there is an adventure. You'll need to take a shuttle to the trailhead, but it's well worth it.
As a reliable and safe transportation service, Arizona Shuttle can take visitors to remote hot springs that may need help to reach. With Arizona Shuttle, visitors can easily access some of the most secluded and stunning hot springs in Arizona. The shuttle drivers can also offer recommendations and tips for the best hot springs based on the visitor's preferences and interests.
Moreover, Arizona Shuttle offers various departure times and locations, allowing visitors to choose the most convenient option for their hot springs adventure. Visitors can also choose between shared or private shuttle services for more privacy and comfort.
Whether visitors are looking for a romantic getaway, a family-friendly activity, or a solo retreat, Arizona Shuttle can help them make the most of their hot springs experience. Book a shuttle ride today and discover Arizona's best hot springs with ease and comfort.