Arizona's stunning landscapes will leave visitors in awe, from the majestic Grand Canyon to the otherworldly Monument Valley. It is home to a few of the most iconic landscapes in the United States, and many of these natural wonders are easily accessible by the Arizona shuttle. In this blog post, we'll explore some of the most iconic landscapes in Arizona that you can experience by shuttle.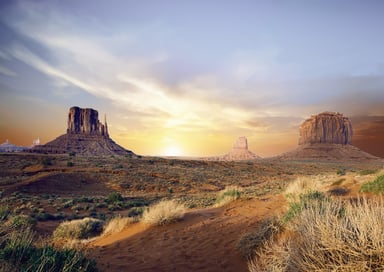 The Grand Canyon
Every trip to Arizona is complete with a visit to the Grand Canyon, one of the world's seven natural wonders. With its breathtaking views and rugged terrain, the Grand Canyon is a must-see destination for anyone visiting the state. Shuttle services offer daily trips to the South Rim of the Grand Canyon, where visitors can take in stunning views from lookout points like Mather Point, Yavapai Point, and Desert View. For a more adventurous experience, visitors can also take a mule ride, hike down into the canyon, or raft down the Colorado River.
Monument Valley
Monument Valley is known for its towering sandstone buttes and stunning vistas in the Navajo Nation in northeastern Arizona. Monument Valley is one of the most recognizable landscapes in the American West, made famous by countless Western movies. Shuttle services offer daily tours of the valley, where visitors can explore the area's unique rock formations and learn about Navajo culture and history.
Antelope Canyon
Located on Navajo land near Page, Arizona, Antelope Canyon is a narrow slot canyon known for its undulating sandstone walls and colorful rock formations. Visitors can walk through the narrow gorge, taking in the stunning colors and textures of the sandstone walls. Because of the unique lighting in the canyon, many visitors choose to visit during the midday hours when the sunlight filters down through the narrow opening above the canyon. Shuttle services offer daily tours of the canyon, divided into two sections: Upper Antelope Canyon and Lower Antelope Canyon.
Horseshoe Bend
Located just south of Page, Arizona, Horseshoe Bend is a stunning horseshoe-shaped bend in the Colorado River. Visitors can take in the spectacular views of the river and the surrounding red rock landscape. Shuttle services offer daily trips to the overlook, perched on a cliff 1,000 feet above the river.
Sedona Red Rocks
In central Arizona, Sedona is famous for its stunning red rock structures and vibrant arts community. Visitors can hike among the red rocks, explore the many art galleries and studios, and enjoy fascinating views of the surrounding landscape. Shuttle services offer daily trips to the area.
In conclusion, Arizona's iconic landscapes are indeed a sight to behold, and there's no better way to experience them than by the Arizona shuttle. Whether visiting the Grand Canyon, Monument Valley, or any other stunning landscape in the state, shuttle services make exploring and taking in the breathtaking scenery easy.