Arizona boasts an impressive public art scene and unique architecture, making it a must-visit destination for art and architecture enthusiasts. With easy access through shuttle services, exploring the state's best public art and architecture is a breeze. Here's a guide to some of the most exciting destinations to add to your itinerary.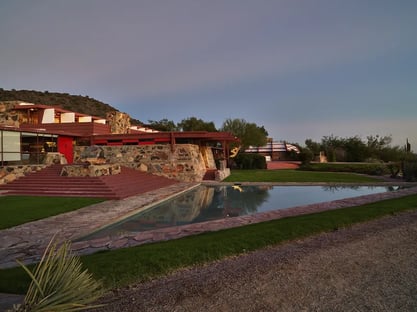 Scottsdale Public Art Walk
Scottsdale is a hub for public art, featuring a diverse array of installations throughout the city. The Scottsdale Public Art Walk is a self-guided tour that takes visitors through the city's vibrant arts district. With over 70 works of art along the way, the tour offers a unique look at the city's creative community. Highlights include Robert Indiana's "Love" sculpture and the "Diamond Bloom" installation by Walter Productions.
Frank Lloyd Wright Buildings in Phoenix
Frank Lloyd Wright is one of the most renowned architects in American history, and Arizona is home to several of his most notable designs. The Arizona Biltmore, Taliesin West, and the David and Gladys Wright House are just a few of the architect's buildings that can be visited in the state. These iconic structures showcase Wright's distinct style and innovative designs, making them must-see destinations for architecture enthusiasts.
Colossal Cave Mountain Park
Located in Vail, Arizona, the Colossal Cave Mountain Park is home to unique architecture and stunning natural beauty. The park's cave tours take visitors through a living cave system, showcasing some of the most amazing rock formations in the state. Above ground, visitors can explore the park's historic buildings, including the Civilian Conservation Corps-built entrance building and the Colossal Cave Ranch House. The park is a fascinating destination for those interested in architecture and natural wonders.
Taliesin West
In Scottsdale, Taliesin West is Frank Lloyd Wright's winter home and architectural school. The site offers a variety of tours, including a famous Insights Tour, which takes visitors through the main living quarters and workspace. The complex also includes a theater, music pavilion, and Wright's private office. Taliesin West is a must-visit destination for architecture enthusiasts and anyone interested in the history of American design.
Phoenix Art Museum
The Phoenix Art Museum is comprehensive, featuring a diverse collection of over 20,000 works. The museum's collection includes contemporary and modern art, fashion design, photography, and art from across the globe. With rotating exhibitions and special events, there's always something new to see at the Phoenix Art Museum.
With various impressive public art installations and unique architectural wonders, Arizona is a destination not to be missed. Arizona shuttle services make exploring the state's best art and architecture easy and accessible. Plan your trip today and experience the creative spirit of Arizona for yourself.