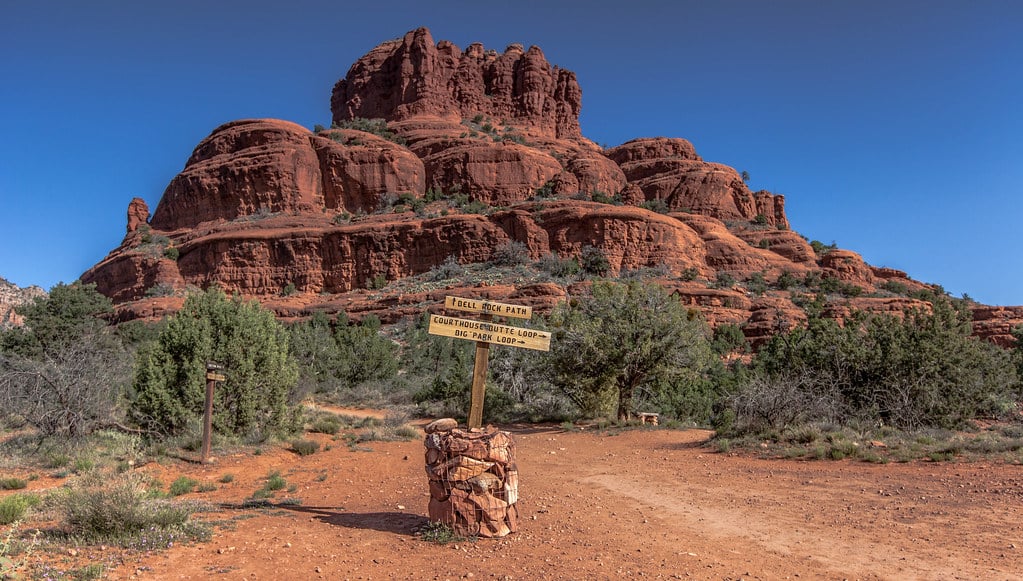 Bell Rock is a plateau with an elevation of 4,919 feet. It is located in the north village of Oak Creek, Arizona. This is a famous landmark and a bird's eye view from the top. This plateau is a moderate hike that leads to a small table. It is a 3.6 miles trail of steep hills and rocky surfaces. This formation is called a bell because it resembles a massive bell. This destination is highly trafficked due to its moderate difficulty level. It gives you the view of Bell Rock and Courthouse Butte formations as you trek between the mountains.


Trails
This climb offers different paths, so pick your choice after knowing about it. The trail connects Bell Rock Vista Trailhead to the Little Horse Trailhead; Bell Rock Loop Trail offers direct access to the Bell Rock formation. The view from the hilltops is not only panoramic but also worth the moderate climb, with well-marked maps to help one complete the trek easily. This trek is pet-friendly so one can take their dogs with a leash. Get a closer view of the high-fly eagles.


Bell Rock Lighthouse
Visit the Bell Rock Lighthouse, located off the coast of Angus, Scotland. This lighthouse is recognized as the world's oldest surviving sea-washed lighthouse. The lighthouse is 35 meters tall and was constructed around 1807 to 1810 on the bell rocks of the northern sea. This lighthouse is mentioned in the Seven Wonders of the Industrial World due to the challenges faced in its engineering of it.
Signal Tower Museum
This place has its museum named Signal Tower Museum, located at the mouth of Arbroath harbor. It first operated as the bell rock signal tower, the same building exhibiting the lighthouse's history.
Little Horse Trailhead
Little Horse Trailhead is a hike that can be covered by hiking, trekking, and horseback riding. This hike gives you a view of fascinating Sedona red rocks. This place offers moderate hikes and can be done by any individual. It takes about 2 hours to complete the little horse.
This trail is moderate, making it easy for everyone to trek. The trek can be completed on a horseback or bike ride. This adventure can be enjoyed with your travel partner Arizona shuttle. We will pick you up from the exact location and drop you off at the mentioned place. Our services are affordable. So book your ride today and begin your holiday mood. For more information, contact us at (480) 710-3441.