Cosanti is a historic site in Arizona designed by world-renowned architect Paolo Soleri, with terraced landscaping and experimental earth-formed concrete structures. Organic structures rise from the Arizona desert to immerse visitors in a creative, meditative experience. Windbell Gallery houses an impressive collection of handcrafted, one-of-a-kind bells. Guests can take tours of the property seven days a week.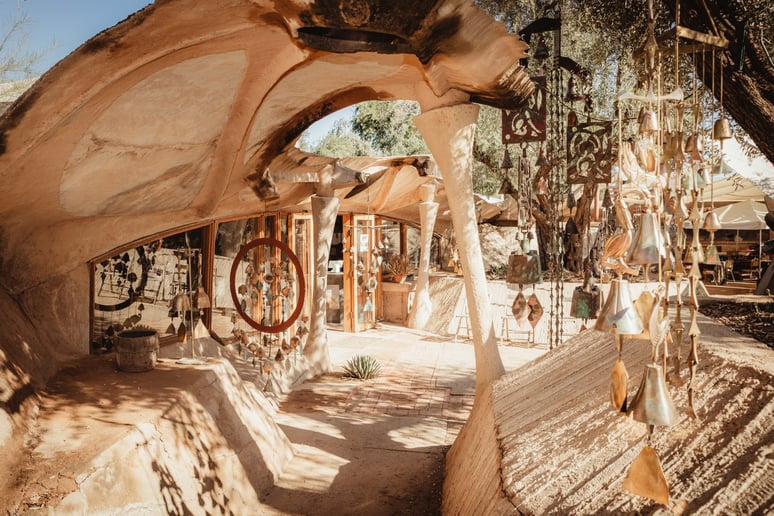 History
Cosanti is the Italian-American architect Paolo Soleri's gallery and studio, which he called home until he died in 2013. It is now a public Arizona Historic Site in Paradise Valley, Arizona, USA. Cosanti is distinguished by its terraced landscaping, experimental earth-formed concrete structures, and sculptural wind bells. Soleri and his wife Colly settled on a five-acre plot near Taliesin West, where Soleri had studied under Frank Lloyd Wright in her past. It was built on the outskirts of Scottsdale and is now surrounded by a prosperous suburban neighborhood.
In 1970, Soleri outgrew the location. By combining architecture and ecology, he coined the term "arcology" then founded Arcosanti, an "urban laboratory" seventy miles north. Cosanti became the headquarters and namesake of Soleri's foundation as students, and the frontier of development relocated there. Among the structures at Cosanti are the original "Earth House," a student dormitory, outdoor studios, a performance space, a swimming pool, a gift shop, and Soleri's residence. They are all surrounded by courtyards, terraces, and garden paths.
Many structures are partially underground and surrounded by earthen mounds for insulation, allowing their interior temperatures to be moderated all year. The swimming pool and several other facilities face south to take advantage of the warmth of the winter sun.
Although the concept of arcology predates Cosanti, many archaeological principles were first implemented there. The majority of the structures were built using earth-casting methods. After the concrete solidified, the earth was excavated from mounds of densely packed soil. On weekday mornings, the bronze and ceramic wind bells are also made using a modified earth casting technique at Cosanti and Arcosanti.
Believe us when we say that this is a check you should put on your bucket list!
Explore and experience these natural wonders; the Arizona shuttle is available to help you along the way. We offer simple booking as well as door-to-door service. We provide professional chauffeurs as well as uniformed drivers and clean vehicles. Their mission is to create lifetime customer loyalty by exceeding their service expectations. We offer shuttle and sedan service for any occasion. We guarantee safe rides because we conduct background checks and provide door-to-door service, eliminating the need to wait at bus stops and saving money on taxi fares. So reserve your ride with us.