Deserts are often described by the words hot, dry, and empty. But deserts have a varying habitat depending on the location as some have hot weather during the day and cold nights, whereas others stay cold throughout. And when it comes to saying empty deserts are home to a wide variety of plants and animals which have adopted their habitat. Deserts cover about One-fifth of Earth's surface. Deserts are not just seas of sand but also mountains; a few others are dry areas of rock, etc.
Arizona's desert features the most iconic landscape, unique plants, and animals. Whereas phoenix, the capital of Arizona, is known for its desert climate, where you experience hot summers and mild winters. You can check out the desert, which offers many activities. One of the popular activities is the ATV tour.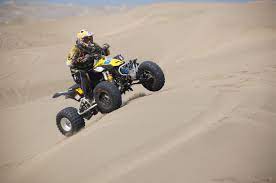 Enjoy Desert Adventure Rides In Arizona
You can enjoy the off-roading adventure experience in the Sonoran Desert, Arizona. Before starting the adventure tour, you will be given a safety briefing and training, after which you can gear up and ride across rocky trails along the scenic mountains passing through the Agua Fria River. Where the guide will help you learn about the flora and fauna, found there. You must look out for coyotes, bobcats, and many other animals. Get your adrenaline a spike and enjoy the experience.
This experience is a guided tour of the utility terrain vehicle. It is a safe off-roading vehicle with a guide who helps you get through the rocky and rugged trails in the Sonora desert. You are given all the safety gear. This tour accommodates four people in a vehicle. So remember to take your group along.
You can enjoy the fun of riding an ATV with the experience of handling various firearms. You can enjoy the ride through the fascinating trails of the Sonoran Desert. And become an expert in handling multiple firearms with our NRA-certified instructor. This adventure is a 4-hour training and touring session. You can opt for a single-seat ATV or a multi-passenger vehicle tour.
Sidewinder ATV Training & Centipede Tour
This tour is a beginner-friendly experience of their adventures ATV tour. It is a combination of a sidewinder ATV training and a centipede tour. You are briefed about the safety operations and ride on their test course, known as sidewinder. After the training, you can enjoy the centipede tour, which takes you deep into the Sonoran desert. You will come across many scenic and beautiful views on your way.

We provide SUVs, shuttles, and Pre-booked luxury cars to fit your needs. So to enjoy these adventure rides, book the Arizona shuttle to enjoy a hustle-free journey at a budget-friendly price. All you need to do is book, and we will pick you up from the address mentioned. For more information, contact (480) 710-3441.