If you're in or near Flagstaff, the Grand Canyon Deer Farm in Williams, Arizona, is a must-see. This is a great little farm where you can pet and feed the deer.
When was the last time you saw a herd of deer? If your answer is never, it's time to reconsider!
This deer farm is ideal for people of all ages, whether children or adults. Many domesticated deer are waiting for you to pet and feed them in this one-of-a-kind experience.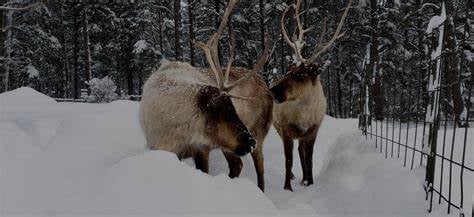 The Deer Farm is a 10-acre animal wonderland located on an old section of Route 66. Walk around our park to see wallabies, llamas, mini cattle, bison, peacocks, and other animals. Walk alongside deer and feed them with your hands. Chat with a parrot, Mozart is a very entertaining cockatoo, Scarlet (a lilac crowned Amazon Parrot) is a little shyer, pets a goat, and kisses a camel. If you enjoy animals, you will have a great time here.
The Grand Canyon Deer Farm in Williams, Arizona, is a popular tourist attraction where visitors can feed and interact with deer. The farm is home to several deer species, including white-tailed deer, mule deer, and elk. Visitors can buy food to feed the deer, as well as pet and photograph the animals. Other farm animals, besides deer, include bison, goats, llamas, porcupines, wallabies, camels, and even a zonkey! The Grand Canyon Deer Farm, with its friendly animals, is a must-see for any animal lover and visitor to Arizona.


Grand Canyon Deer Farm Cost
Because the Grand Canyon Deer Farm is privately owned and receives no funding, all proceeds from ticket sales go directly to feeding and caring for the farm's animals. Adults pay $16, children ages 3 to 13, seniors pay $15, and children two and under are free. Feed for the animals can be purchased separately at the ticket counter — plan on doing this because it's a lot of fun here.
Tickets are available at the deer farm. Tickets are valid until the end of the day, so that you can stay all day. If you need to leave for a snack, lunch, or something else, show your receipt to re-enter the park on the same day. It's an experience you don't get every day, especially given how fearless these animals are in the wild. Some deer will nibble on your shirt, pants, or even your shoelaces, so don't wear your best clothes!
Explore and experience these natural wonders, the Arizona shuttle is available to help you along the way. We offer simple booking as well as door-to-door service. We provide professional chauffeurs as well as uniformed drivers and clean vehicles. Their mission is to create lifetime customer loyalty by exceeding their service expectations. We offer shuttle and sedan service for any occasion. We guarantee safe rides because we conduct background checks and provide door-to-door service, which eliminates the need to wait at bus stops and saves money on taxi fares. So reserve your ride with us.