Have you ever wished to walk in the sky? Well, everyone has and always finds ways to get those thrilling experiences. The Arizona shuttle can help you experience that at the Skywalk.
Skywalk is a horseshoe-shaped strut bridge with a glass walkway at eagle point near the Colorado River. It was opened to the public on 28 March 2007, and this place attracted more than one million visitors in 2015. It is an attraction spot at Grand Canyon West. The Skywalk's elevation. This place is one of the world's seven natural wonders.
Grand Canyon West is a census-designated place (CDP) in Mohave County, Arizona. This place is home to the tribes, and the business operations here include Grand Canyon West Airport and the Grand Canyon Skywalk. As per the 2020 census, the population reported this year is 0. Kingman is the closest city to Skywalk in the east, with more than 10,000 population.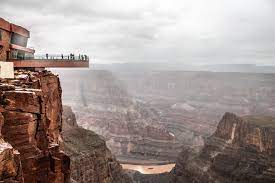 Other attractions of this place are :
Ziplining

Colorado River Rafting

Dining

Helicopter and Pontoon Tours

Hualapai Point

Guano Point

Eagle Point
David Jin, an entrepreneur, came up with the idea of extending a platform out over the edge of the site, and this idea was executed with the help of architect Mark Ross Johnson. The width of the Skywalk is 65 feet. The deck of the Skywalk has been made with four layers of Saint-Gobain Diamant low iron glass with DuPont SentryGlas interlayer. The glass slidings were made of the same glass as the deck. The deck was designed to carry 100 pounds per square foot live load. The Skywalk was assembled on top of the canyon wall in line with its final placement and moved into the final position by a jack and roll rig. This structure weighs more than 1,000,000 pounds. Skywalk is strong enough to hold seventy fully loaded 747-passenger jets.
There are further plans for constructing the Grand Canyon Skywalk complex that includes a museum, movie theatre, VIP lounge, gift shop, and several restaurants, including a high-end restaurant called The Skywalk Café, for visitors to enjoy a dining experience outside the canyon rim. The Skywalk can be accessed from Las Vegas, Nevada, in the north or Kingman, Arizona, in the south.
Arizona shuttle will help you experience the best service as we assure the safety of our passengers, door-to-door service, and flexibility in changing the date and time at any moment without any charges. We are available 24/7 at your service. Plan your ride at an affordable price with SUVs, shuttles, and luxury cars to fit every budget. Book your ride now and hop on into a vacation mood. For more information, contact us at (480) 710-3441.