Phoenix, the capital of Arizona, is a desert city that offers diverse hiking opportunities. Knowing where to start can be confusing with dozens of trails and parks. Whether you're a newbie or an experienced hiker, here is a guide to some of the best hiking trails and scenic views in Phoenix that you can explore with the help of Arizona Shuttle.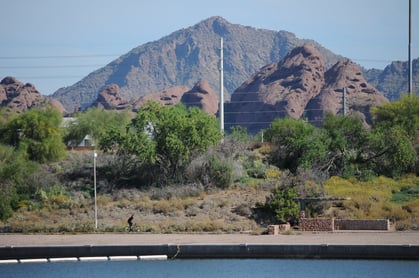 Camelback Mountain
Camelback Mountain is one of Phoenix's most popular hiking destinations, offering two different trails for hikers of all levels. The Echo Canyon Trail is a strenuous hike that takes you to the top of the mountain, offering stunning city views. The Cholla Trail is a longer but less challenging hike that still provides beautiful views of the desert landscape.
Piestewa Peak
Formerly known as Squaw Peak, Piestewa Peak is a challenging hiking trail that rewards you with breathtaking views of the city at the top. The trail is 1.2 miles path with a steep elevation gain of over 1,100 feet, making it a challenging climb.
South Mountain Park
It is the largest municipal park in the United States, covering over 16,000 acres. The park offers numerous hiking trails ranging from easy to strenuous. The Holbert Trail is a popular route that takes you to the hilltop, where you can enjoy panoramic views of the city and the surrounding desert.
Papago Park
Papago Park is a scenic park in the heart of Phoenix, offering hiking trails perfect for newbies or those looking for a more leisurely hike. The park also features unique geological formations, such as the Hole-in-the-Rock, which provides an Instagram-worthy photo opportunity.
McDowell Sonoran Preserve
The McDowell Sonoran Preserve is a vast desert wilderness offering over 200 hiking trails. The Gateway Loop Trail is a moderate hike that takes you through diverse landscapes, including cactus forests and granite boulder formations. At the top of the trail, you can enjoy stunning views of the McDowell Mountains.
No matter which trail you choose, be sure to pack plenty of water, sunscreen, and a hat to protect yourself from the desert sun. With Arizona Shuttle, you can quickly get to and from the hiking trails without worrying about transportation or parking. Book your trip today and get ready to explore the natural beauty of Phoenix on foot.