There isn't any better way to take in the sights (and take amazing photos!) of our beautiful city, with breathtaking sunrises and sunsets, vast saguaro-dotted mountain ranges, and native animals like jackrabbits, coyotes, and burros scurrying around. Phoenix/Scottsdale has the most flyable days per year of any city in the country for hot air ballooning, with over 300 days of sunshine per year, making it one of the most desirable places to take flight.
A drive through the Sonoran Desert does not do it justice; the desert spans more than 100,000 square miles (260,000 square kilometers). A hot-air balloon ride is one of the best ways to get the views you want, and this morning tour from Phoenix takes you up in the air with an FAA-licensed pilot to see the sunrise. After that, you can have a Champagne breakfast near your landing spot.
Breathtaking Views
While soaring 2,000-5,000 feet in the air, the vastness of the Arizona Sonoran Desert is overwhelming. The views are almost surreal in what appears to be such a picturesque setting. Points of interest in the distance include Downtown Phoenix, Camelback Mountain, Lake Pleasant, and State Farm Stadium, as the pilot shares the history of our fascinating city and points out local wildlife and plant life (home of the Arizona Cardinals).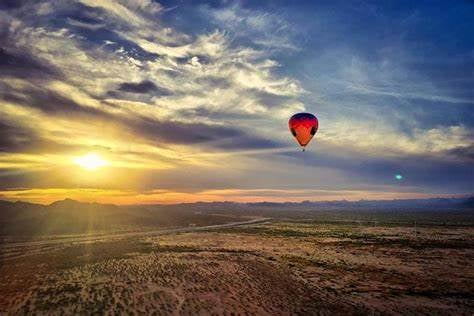 The views are breathtaking, but the tranquility and peace of ballooning are unparalleled. Floating with the wind, the journey is so smooth you won't even notice you've left the ground. The sensation of gently stroking thousands of feet above the clouds has been described as "riding on a cloud" and "a magic carpet ride." The only sounds you'll hear up and away are camera clicks and the rustling of desert animals below, as well as your pilot's use of the burner on occasion.
Hot air balloon rides are available in Phoenix every day of the year, in the morning and, from November to March, in the afternoon. For over 28 years, Hot Air Expeditions, a locally owned and operated company, has provided hot air ballooning experiences in Phoenix/Scottsdale, Arizona.
Believe us when we say that this is a check you'll want to put on your bucket list!


These places already sound fun and will provide you with the best overall experience. So give the Arizona Shuttle a chance to provide you with the best travel experience possible and a fun-filled day. We ensure passenger safety and provide pick-up and drop-off service at any address. We conduct background checks on all of our drivers nationwide and are willing to accommodate changes in date and time without charge. We offer SUVs, shuttle service, and pre-booked limos for a luxurious feel. Book your ride now and sit back and enjoy your vacation.