Build the BEST DAY EVER in the ultimate two-story indoor LEGO® playground!
Surround yourself with millions of LEGO Bricks, fly on Merlin's Apprentice, blast skeletons on Kingdom Quest ride adventure, see your favorite characters in LEGO 4D Theater, and collaborate with master builders to build epic LEGO creations!
At LEGOLAND® Discovery Center Arizona in Tempe, kids can explore, play, and use their imaginations in a world of exciting possibilities. Your children will spend an entire day filled with wonder, from building their own race cars to riding a magic bike and safely climbing up walls. Your admission ticket grants you access to the main attraction as well as all of the park's play areas and rides.
The Legoland Discovery Centre is a British leisure group Merlin Entertainments' indoor family attraction chain. The Discovery Centre's are smaller but exact replicas of the Legoland theme parks that can be found worldwide, with models and attractions inspired by the Lego building toys.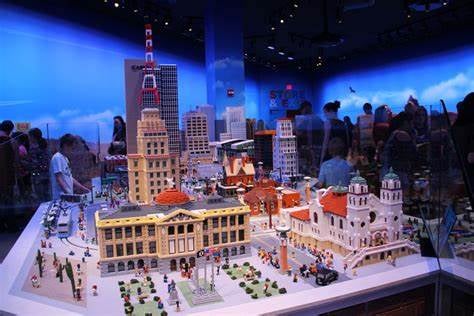 Attractions
A typical Legoland Discovery Centre has a floor area of 30,000-35,000 square feet (2,790-3,250 m2). Local landmark models made of Lego bricks can be found in Discovery Centre's. Visitors can also learn how Lego bricks are made and participate in building classes led by a Master Model Builder. Some locations may also have 4-D movie theaters with multiple showings throughout the day.
While the attractions include several roller coasters, they are not as numerous or as extreme as those found in other parks, and a greater emphasis is placed on rides suitable for younger children. Legoland parks are divided into distinct areas that are consistent across the chain. For example, each of the six parks has a Lego miniland, a model village with models of landmarks and scenes from around the world made from millions of genuine Lego bricks.
There are also a few kid-friendly attractions, such as small rides and play forts. Birthday parties, scholastic and group functions, as well as restaurants and gift shops selling Lego merchandise, can all be held at the centers. The Legoland Discovery Centre's target audience is families with young children, typically ages 3 to 12; however, the average guest at a specific location is around seven years old. Discovery Centre's are conveniently located near other family-friendly attractions and dining options. A single facility can host between 400,000 and 600,000 visitors annually.


These places already sound fun and will provide you with the best overall experience. So give the Arizona Shuttle a chance to provide you with the best travel experience possible and a fun-filled day. We ensure passenger safety and provide pick-up and drop-off service at any address. We conduct background checks on all of our drivers nationwide and are willing to accommodate changes in date and time without charge. We offer SUVs, shuttle service, and pre-booked limos for a luxurious feel. Book your ride now and sit back and enjoy your vacation.