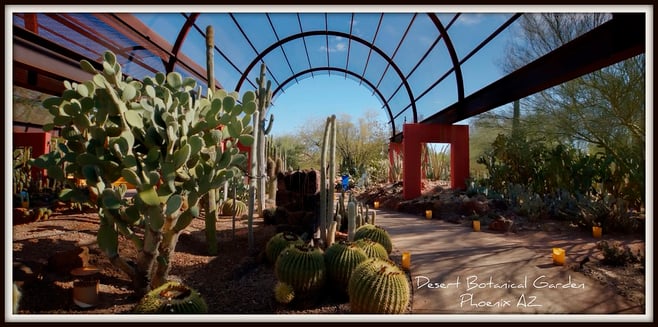 Day 1 :
Start your day at the Desert Botanical Garden.
The Desert Botanical Garden is a 140-acre garden located in Phoenix, Arizona, that showcases over 50,000 desert plants from around the world, including cacti, succulents, and wildflowers. The park features several trails and exhibits, including the Ruth B. Shannon succulent garden, the Harriet K. Maxwell Desert Wildflower Trail, and the Dorrance Hall, a desert conservation and research center. Visitors can also attend guided tours, workshops, and events, such as outdoor concerts and light displays. Plan to spend a few hours wandering the garden, taking in the stunning views, and enjoying the peaceful surroundings. And remember to bring a camera to capture the beauty of the park!


Head to the Heard Museum
The Heard Museum is a world-renowned museum located in Phoenix, Arizona, that focuses on the art, culture, and history of the American Indian. The museum's collections display the rich cultural heritage of the indigenous peoples of the Southwest and beyond, with a particular emphasis on the cultures of the Hopi, Zuni, Navajo, and Apache tribes.
Visitors can explore over 130,000 square feet of exhibit space, including interactive displays, multimedia presentations, and hands-on educational programs.


Enjoy a delicious lunch at one of Phoenix's many dining options.
Phoenix, Arizona, boasts a diverse and vibrant dining scene, with a wide range of restaurants serving delicious cuisine worldwide. Whether you're in the mood for traditional southwestern fare, international cuisine, or comfort food, there's something for everyone in Phoenix.
Some popular dining options in Phoenix include:


Barrio Cafe: Known for its authentic Mexican cuisine, Barrio Cafe serves dishes made with locally-sourced ingredients and traditional cooking techniques.


Pizzeria Bianco: If you're a pizza fan, check Pizzeria Bianco, where you'll find some of the best pizzas in the city made with locally-sourced ingredients.


T. Cook's: T. Cook's is a classic American restaurant in the Royal Palms Resort and Spa. The restaurant offers a romantic atmosphere and a menu featuring fresh, seasonal ingredients.


Visit the Phoenix Zoo



The Phoenix Zoo is a world-class facility home to over 1,400 animals representing more than 200 species. It covers over 125 acres of land, providing ample space for visitors to explore and learn about the fascinating world of wildlife. The Phoenix Zoo also offers a range of exciting programs and events, including animal encounters, behind-the-scenes tours, and wildlife shows.


Arizona Shuttle is a transportation service that provides comfortable, reliable, and affordable transportation throughout Arizona. With a fleet of modern, well-maintained vehicles and experienced, friendly drivers, Arizona Shuttle offers a comfortable, stress-free way to get around the state. Arizona Shuttle has got you covered if you're looking for a ride to or from the airport for a formal or leisurely tour of the state.