Petrified Forest National Park is an American national park in northeastern Arizona. It got its name for its large deposits of petrified wood. Petrified wood is the name given to a particular type of fossilized wood. Petrifaction results from a tree or tree-like plant being replaced by stone via a mineralization process that often includes permineralization and replacement. This park covers 346 square miles, and the northern parts were declared a national monument in 1906 and a national park in 1962. Petrified Forest is known for its fossil remains containing the fossil logs that are part of the widespread and colorful Chinle Formation.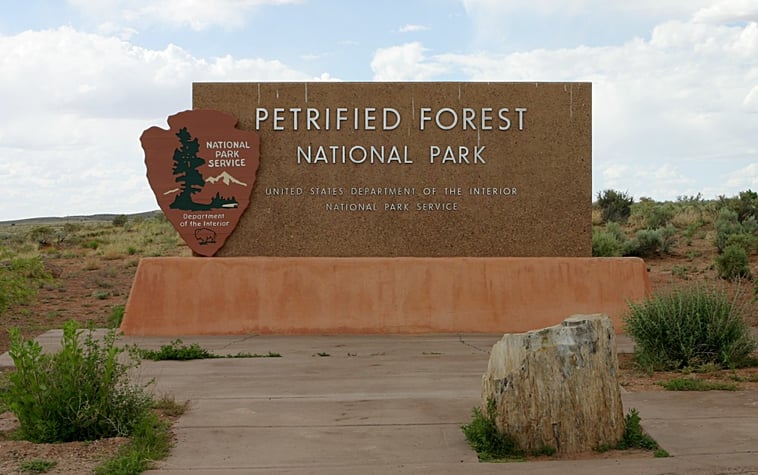 1. Painted Desert Visitor Center
This complex acts as the park's headquarter administration office, visitor and resident service, and employee housing. Take a stop for historical architecture, information, book store, gift shop, and food.
2. Painted Desert Inn National Historic Landmark
This place functions as a museum now. Where you find inside highlighting the building's history, Route 66, and the Civilian Conservation Corps, it was earlier built with petrified wood and later underwent many changes.
3. Painted Desert Overlooks
This place is the perfect spot to enjoy the fascinating views of the painted desert and several outlook areas.
4. Newspaper Rock
It is named an archeologist site whose name doesn't have to do anything with the site as it's neither newspaper nor a single rock. This place has many markings and writings which are impossible to read.


Other than the above places, many others, like Route 66 Alignment, Jasper Forest, Agate Bridge, Rainbow Forest Museum, and Giant Logs Trail, keep going. But other than these places you can even enjoy additional activities.


Hiking here is an off-trail path that allows you to discover the rarely visited sites. Many destinations can be found without the trail or course, but others need road-finding skills.
You can follow the trail to visit the archeological highlights, the natural environment, and the famous petrified logs.
Here they also have a lot of guided tours where you join a ranger, scientist, volunteer, reactor, or other field experts.


And the list keeps going. The best opportunity is to explore all the experiences by visiting the site with the Arizona shuttle. We pick you up from the doorstep without any stop, which makes us faster than other transport. We provide SUVs, Shuttle service, and pre-booked limos. We are available 24/7, assuring the safety of passengers at affordable prices. You can make changes of the date and time at any moment without any charges. Take a break and book your ride to escape this stressful life. Contact us at (480) 710-3441.