Phoenix is known for its beautiful desert landscapes and breathtaking sunsets, but the city takes on a new level of charm at night. With a vibrant nightlife scene and stunning city views, Phoenix offers plenty of opportunities to take in its nighttime beauty. Here's a guide to the city's best rooftop bars and observation decks with Arizona Shuttle.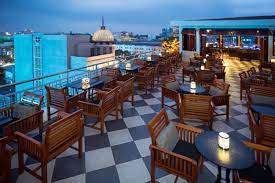 Lustre Rooftop Bar
Located in the heart of downtown Phoenix, Lustre Rooftop Bar is a must-visit for anyone looking for a unique and upscale rooftop experience. The bar boasts stunning views of the city skyline and is the perfect place to enjoy a drink and relax. The bar also offers poolside cabanas, full cocktails, and a small bites menu.


The Rooftop at the Clarendon Hotel
For a more laid-back and casual atmosphere, head to The Rooftop at the Clarendon Hotel. This trendy rooftop bar offers fantastic views of the city and a variety of specialty cocktails, local craft beers, and delicious bar bites. Take advantage of the happy sunset hour, where you can enjoy discounted drinks and small plates.


South Mountain Park
For an outdoor adventure and breathtaking views of the city, head to South Mountain Park. With over 16,000 acres of desert landscape, the park offers plenty of hiking and biking trails that lead to stunning observation points. The park is also home to Dobbins Lookout, a popular spot for panoramic city views at night.


Phoenix Skyline at South Mountain Park
For a unique way to experience the city's skyline, take a scenic drive up South Mountain and stop at one of the many observation points. The city lit up at night, including iconic buildings like Chase Tower and the Wells Fargo Plaza.


Compass Arizona Grill
It is located on the 24th floor of the Hyatt Regency Phoenix; Compass Arizona Grill is the city's only revolving rooftop restaurant. The restaurant offers breathtaking 360-degree views of the city and a menu featuring American cuisine with a Southwestern twist. Make sure to make a reservation in advance for a memorable night out.


With Arizona Shuttle, you can easily explore Phoenix's best nighttime views without worrying about transportation. Arizona Shuttle can provide safe and reliable transportation to the rooftop bars and observation decks mentioned in the blog, allowing visitors to enjoy the city's best nighttime views without worrying about navigating unfamiliar streets or finding parking. Additionally, Arizona Shuttle's professional drivers can offer tips and recommendations for the best spots to catch a sunset or enjoy a drink while taking in the cityscape. Book your shuttle ride today and experience Phoenix's stunning nighttime views with ease and comfort.