Prescott, Arizona, is a charming city known for its rich history, natural beauty, and unique attractions. One of the best places to experience all that Prescott has to offer is its historic downtown district. From fine dining to casual eateries, lively bars to cultural attractions, there is something for everyone in this bustling city. And with Arizona Shuttle, getting around downtown Prescott is a breeze. Here's a guide to the best restaurants, bars, and attractions in the city's historic downtown.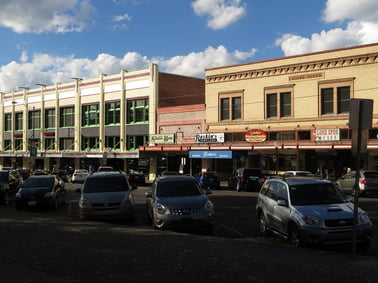 Restaurants:
The Palace Restaurant and Saloon: This iconic restaurant is a must-visit in Prescott. Built-in 1877, it has served many famous people, including Wyatt Earp and Doc Holliday. Its Old West décor and live music make it a great place to enjoy a steak, burger, or craft beer.
El Gato Azul: This vibrant tapas bar is a cool place to grab a quick bite or linger over a glass of wine. The menu features various small plates inspired by Spanish, Mediterranean, and Southwestern cuisines.
The Raven Café: This cozy café is a favorite spot among locals and visitors. It offers delicious breakfast and lunch items and a selection of craft beers and wines. The restaurant also hosts live music and art events.
Prescott Brewing Company: This brewery and pub is a great spot to try local craft beers and pub fare. The menu includes burgers, sandwiches, salads, and pizzas in a wood-fired oven.
Bars:
The Barley Hound: This hip gastropub is known for its extensive selection of craft beers, cocktails, and wines. It also serves elevated pub food, such as duck confit poutine and lamb burgers.
The Point Bar and Lounge: This stylish bar has a great selection of cocktails, wine, and beer. It's also known for its live music events, with local and touring musicians taking the stage regularly.
Jersey Lilly Saloon: This historic saloon, established in 1878, is another must-visit spot in Prescott. Its Old West atmosphere, friendly staff, and live music make it a great place to enjoy a cold beer or a whiskey.
Attractions:
Sharlot Hall Museum: This museum is a great place to learn about the history of Prescott and the surrounding region. It exhibits Native American history, territorial life, and the mining and ranching industries.
Whiskey Row: This section of Montezuma Street is famous for its historic saloons, including The Palace and Jersey Lilly. It's a great place to stroll and soak in the Old West ambiance of Prescott.
Courthouse Plaza: This park in the heart of downtown is a great place to relax and people-watch. It's also the site of many community events, such as the annual Christmas tree lighting and the weekly farmers' market.
With Arizona Shuttle, you can easily explore all downtown Prescott offers without worrying about parking or navigating unfamiliar streets. Whether you're a history buff, a foodie, or a music lover, there's something for everyone in this vibrant part of the city.