Nestled in the central highlands of Arizona, Prescott is surrounded by stunning natural beauty, numerous wilderness areas, and national forests. Whether you're a hiker, camper, or nature lover, there are ample opportunities to explore the great outdoors in and around Prescott. And with Arizona Shuttle, getting there has always been challenging.
Here's a guide to some of the top wilderness areas and national forests in the area that are worth exploring: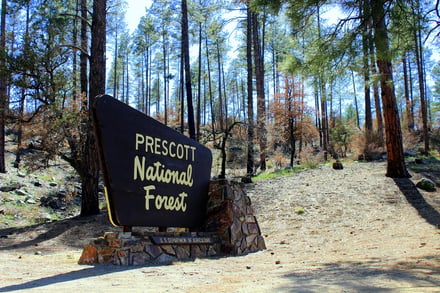 Prescott National Forest
Covering over 1.2 million acres, the Prescott National Forest is a vast and diverse wilderness area perfect for outdoor recreation. There are numerous trails for hiking, mountain biking, camping, fishing, and wildlife watching. The forest also features several lakes and streams, including Lynx Lake, Watson Lake, and Granite Basin Lake, popular spots for boating and fishing.
Granite Mountain Wilderness
Located just north of Prescott, the Granite Mountain Wilderness is a rugged and scenic area home to various plant and animal species. Wildlife in the area includes elk, mountain lions, and black bears. The wilderness area features several hiking trails, including the famous Granite Mountain Trail, which offers breathtaking views of the surrounding landscape.
Tonto National Forest
Stretching over 2.8 million acres, Tonto National Forest is the fifth-largest national forest in the country and offers a wealth of outdoor activities. The forest is home to the iconic Superstition Mountains and several lakes, rivers, and streams, perfect for fishing, boating, and swimming. There are also numerous trails, including the popular Apache Trail, which winds through the stunning Salt River Canyon.
Sedona Red Rock Country
Just a short drive from Prescott, Sedona Red Rock Country is a stunning area known for its towering red rock formations and scenic hiking trails. The site is also famous for its spiritual and healing energy and has several spas and wellness centers. Several trails offer spectacular views of the surrounding landscape, including the Cathedral Rock Trail and the Bell Rock Pathway.
Prescott Circle Trail
Suppose you're looking for an extraordinary way to explore the natural beauty of Prescott. In that case, the Prescott Circle Trail is a 54-mile loop trail that circles the city and passes through some of the most stunning wilderness areas. The trail is open to hikers, mountain bikers, and equestrians and can be completed in segments or all at once.
With Arizona Shuttle, you can easily access these wilderness areas, national forests, and more. Whether you're looking to hike, bike, or take in the area's stunning natural beauty, there's something for everyone in and around Prescott.