Step out of the hot Phoenix sun and into the fascinating world of undersea creatures. Discover various types of sea life, from tropical sharks to simple sea stars. View the carefully crafted displays designed to mimic the animals' natural habitats. Get up close and personal with fascinating marine life that lives at the ocean's bottom.
Why not take the kids to a nice, fantastic aquarium for a fun activity? Arizona has a plethora of options. One of them is the Sea Life Aquarium.
Sea Life Arizona first opened its doors in May 2010. The interactive aquarium Sea Life Arizona is located in Tempe, Arizona's Arizona Mills mall. The aquarium features thousands of aquatic creatures, interactive touch pools, and a 360° ocean tunnel. Merlin Entertainments owns and operates Sea Life Arizona, as well as over thirty other aquariums in eleven countries across two continents. There are eight of these in the United States.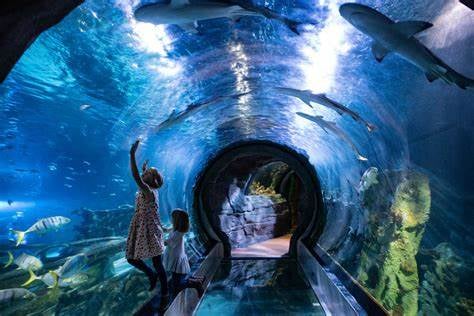 Conservation
Sea Life Arizona provides permanent homes for aquatic creatures that would otherwise be killed or euthanized. In 2012, an endangered green sea turtle named Ziva was housed in the Tempe aquarium's 161,000-gallon display. Many species of seahorses are threatened with extinction due to overfishing and trade in Sea Life aquariums around the world. Seahorse exhibits are also available at Sea Life facilities to educate visitors about the creatures and their endangered status.


It transports visitors from the Colorado River's freshwater to the Sea of Cortez. A 161,000-gallon ocean-view tank with an underwater tunnel is one of the exhibits. Sea turtles, sharks, cownose stingrays, jellyfish, clownfish, angel fish, and other marine life can be seen. This aquarium caters to children aged 12 and under, with plenty of eye-level views for the little ones, but there's plenty for everyone. It concludes with an indoor playground inspired by the Beatles' "Yellow Submarine." Merlin Entertainments owns Sea Life, eight aquariums in the United States, and Legoland Resorts. This summer, Merlin will break ground on a Legoland Discovery Center near Sea Life, Arizona, which opened in the spring of 2016.


The Arizona shuttle service can assist you in carrying out your plans. We guarantee a professional service with knowledgeable drivers. We offer pick-up and delivery to your door. This improves the passengers' safety. The Arizona shuttle is available 24 hours a day, seven days a week. It is adaptable, and you can change the timings anytime without incurring fees. It even results in a reduction in the unnecessary cost of taxis and buses to get home. They offer SUVs, shuttle service, and pre-booked limos to provide you with the luxuries of vacation. Book your ride now to enjoy a stress-free holiday.