Sedona is a city in Arizona's northern Verde Valley region, straddling the county line between Coconino and Yavapai counties. Its population was 10,031, according to the 2010 census. The Coconino National Forest contains it. Sedona's main draw is its collection of red sandstone formations. When the formations are illuminated by the rising or setting sun, they appear to glow brilliant orange and red. The red rocks are a popular backdrop for various activities, including spiritual pursuits and hundreds of hiking and mountain biking trails. Sedona also has a nationally recognized McDonald's with turquoise arches rather than the traditional Golden Arches.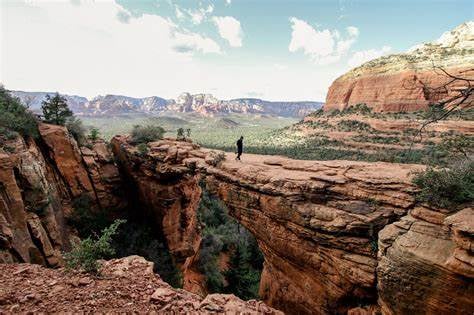 Flora And Geology
Sedona was named after Arabella Miller Schnebly of Sedona, Arizona (1877-1950), the wife of the city's first postmaster, Theodore Carlton Schnebly. She was praised for her hospitality and hard work. Amanda Miller, her mother, claimed she made up the name because "it sounded pretty."
The Schnebly Hill Formation, which forms Sedona's red rocks, is a distinct layer of rock. The Schnebly Hill Formation is a dense layer of red to orange sandstone found only in Sedona. The sandstone, part of the Supai Group, was formed during the Permian Period. Sedona is in northern Arizona's interior chaparral, semi-desert grassland, and Great Basin conifer woodland biomes. Winters in Sedona are mild, and summers are warm.
The interior chaparral of Sedona contains many Quercus turbinella and Rhus ovata shrubs and small tree species, as well as a large population of Quercus Palmeri. The Great Basin woodland has many small to medium Pinus monophylla Var. fallax, Juniperus arizonica, Juniperus deppeana, Juniperus osteosperma, and Juniperus monophylla trees, as well as a large population of Cupressus glabra. Juniperus virginiana, Pinus edulis, and other pines grow at higher elevations in Oak Creek Canyon.
Northern Arizona is littered with ancient relics, from millennia-old dwellings to petroglyphs, but it isn't easy to interpret them meaningfully without some assistance. On this tour, depart from Sedona in a Jeep for a 1.5-mile (2.4-kilometer) hike through an uncrowded area dotted with archaeological remains, learning about the lives of earlier inhabitants as you go.
Travel back in time to explore Native American ruins such as pit houses and petroglyphs, following in the footsteps of ancient tribes. This is a 'hiking' tour with a 'moderate' difficulty rating.


Explore and experience these natural wonders, and the Arizona shuttle is available to help you along the way. We offer simple booking as well as door-to-door service. We provide professional chauffeurs as well as uniformed drivers and clean vehicles. Their mission is to create lifetime customer loyalty by exceeding their service expectations. We offer shuttle and sedan service for any occasion. We guarantee safe rides because we conduct background checks and provide door-to-door service, which eliminates the need to wait at bus stops and saves money on taxi fares. So reserve your ride with us.