Sedona is known for its breathtaking natural beauty, but the city comes alive with a vibrant nightlife scene when the sun goes down. Sedona's nightlife has something for everyone, whether you're looking forward to a romantic getaway or a fun night with friends. And with Arizona Shuttle, you can experience it all without worrying about transportation.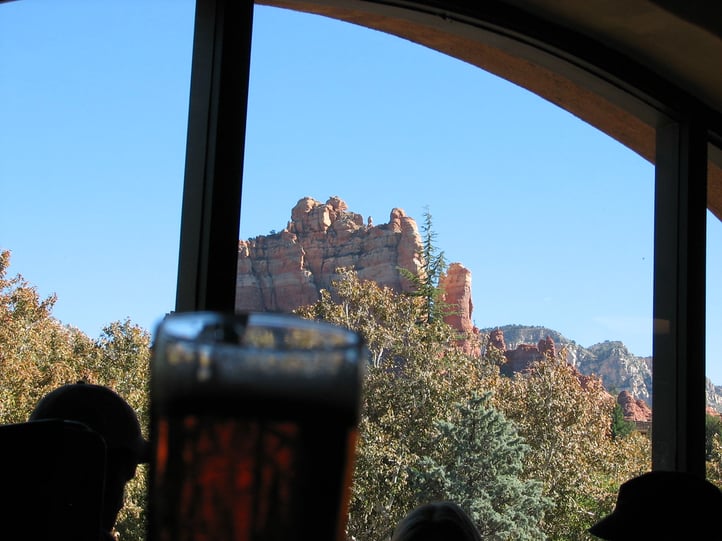 Here's a guide to Sedona's best bars and clubs, all easily accessible with Arizona Shuttle.


Oak Creek Brewery & Grill
For craft beer lovers, Oak Creek Brewery & Grill is a must-visit. Located in Tlaquepaque Arts & Crafts Village, this brewery offers a wide selection of beers, from light pilsners to rich stouts and tasty pub fare. Enjoy live music on the weekends, and take advantage of the outdoor patio with views of the red rocks.


Sound Bites Grill
For live music and fine dining, head to Sound Bites Grill. This upscale venue features a rotating lineup of jazz, blues, and rock performers and a menu of contemporary American cuisine. Enjoy drinks or a glass of wine while enjoying the stunning views of Sedona's famous red rocks.


Mooney's Irish Pub
Mooney's Irish Pub is the place to be for a more casual night out. Catch a game on the TV, play a game of pool, or relax and enjoy the company of friends. Mooney's is a favorite among locals and visitors alike, with an extensive selection of beers on tap and a cozy atmosphere.


SkyRock Inn of Sedona
For a rooftop experience, head to SkyRock Inn of Sedona. This hotel features a rooftop bar with stunning views of the city and surrounding red rocks. Enjoy drinks or a glass of wine while enjoying the sunset or starry night sky.


Sedona Performing Arts Center
For a night of culture, check out the Sedona Performing Arts Center. This venue hosts a variety of shows, from theater to dance to live music. With comfortable seating and excellent acoustics, it's a great place to take in a show and enjoy a night out.
With Arizona Shuttle's reliable and convenient transportation services, you can enjoy Sedona's nightlife without worrying about designated drivers or parking. Arizona Shuttle is a transportation company that offers shuttle services to various destinations in Arizona, including Sedona. The company is committed to providing its guests with safe, comfortable, and eco-friendly transportation options. Arizona Shuttle's fleet of vehicles runs on clean-burning propane, and its drivers are trained in fuel-efficient driving techniques. The company's goal is to make travel in Arizona as hassle-free and enjoyable as possible. Book your shuttle ride today and experience the best of Sedona after dark.