Sedona, Arizona, is truly a unique and special place. With its stunning red rock formations, peaceful energy, and abundant natural beauty, it's no wonder that many consider Sedona a spiritual destination. Some believe it is a vortex of healing and spiritual power.

For those interested in spiritual retreats, Sedona offers many options. Whether you're seeking a meditation retreat, a yoga retreat, or simply a chance to connect with nature, Sedona has something for everyone. And getting to these retreats is made easy with Arizona shuttle services.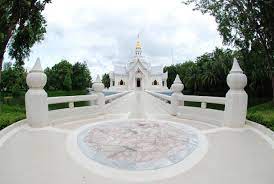 Meditation Retreats
Meditation is a great way to calm the mind, reduce stress, and connect with your inner self. Sedona has many meditation retreats, each with its unique focus and approach. The Sedona Meditation Center, for example, offers guided meditation sessions, workshops, and retreats on various topics, such as chakra balancing and mindfulness. The Sedona Mago Retreat is another popular option, offering a holistic approach to meditation, including a focus on healing and energy work. The Amitabha Stupa and Peace Park is a beautiful outdoor meditation space with a stunning stupa and peaceful gardens. All of these retreats can be accessed easily by the Arizona shuttle.
Yoga Retreats
Yoga is another beautiful way to connect with your body and mind, and Sedona has many options for yoga retreats. 7 Centers Yoga Arts is a well-known studio that offers a variety of yoga classes, as well as workshops and retreats. Yoga Blessings is another popular option, offering Kundalini yoga classes, sound healing, and meditation. Aumbase Sedona is a unique yoga studio that combines yoga with hiking and outdoor adventure, offering yoga hikes and nature retreats. With Arizona shuttle services, accessing these yoga retreats is convenient and stress-free.
Nature Retreats
Sedona is surrounded by some of the most beautiful natural landscapes in the world, making it an ideal location for nature retreats. Red Rock State Park is a popular destination featuring stunning red rock formations, hiking trails, and a visitor center with educational exhibits. The Cathedral Rock Trail is a challenging but rewarding hike with breathtaking views and opportunities for meditation and contemplation. The West Fork Trail is another popular destination, offering a beautiful walk through a lush canyon with plenty of opportunities for reflection and connection with nature. With Arizona shuttle services, getting to these nature retreats is easy and efficient.
In conclusion, Sedona is a unique destination for those seeking spiritual retreats. With its meditation centers, yoga studios, and nature retreats, Sedona offers a wide variety of options for those seeking to connect with their inner selves and find peace and serenity. And with Arizona shuttle services, getting to these retreats is easy, convenient, and stress-free. So why plan a trip to Sedona and experience the beauty and spirituality of this special place for yourself?