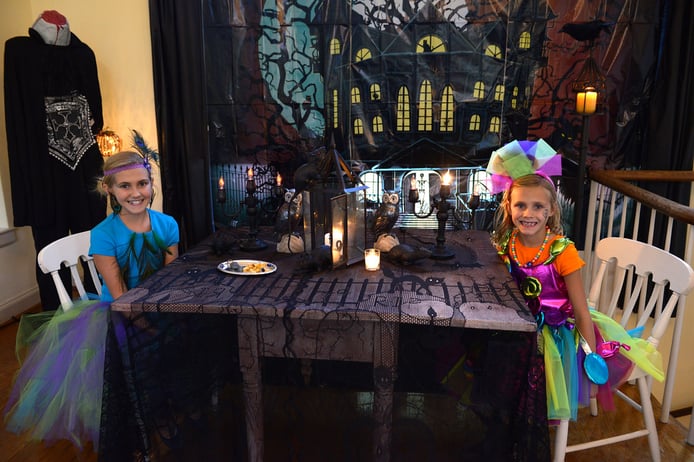 Haunted Railcars: Clarkdale
Challenge yourself to step into the haunted railcars at the Verde Canyon Railroad. It takes you through a dimly lit train maze filled with vanishing phantoms, gory crime scenes, and deranged clowns. These displays are static, not train rides. All the attention goes to evil clowns waiting at Verde Canyon Railroad fright nights.
Do you believe in finding a place perfect for spending your holiday? Well, yes, Mortimer Farms covers it all. Get lost in the giant corn maze, find the perfect pumpkin in the pumpkin patch, enjoy farm-inspired rides, and, most importantly, farm-to-table food. You can enjoy a list of shows, entertainment, grain trade rides, hayrides, and vendors during the day, and when the sun goes down, you can enjoy a farm plus fire dancers, karaoke, bran dance, and figure your way out through the corn maze in the dark.
The first nature-themed Halloween celebrations at the Highlands center. Whereas the kids can wander the paths in costumes and come across creepy creatures in the world around us and enjoy storytelling by candlelight, scavenger hunts, and crafts. The nature center involves a learning experience through recreational and natural exhibits other than conducting events. So give yourself a getaway opportunity.
You can enjoy the best Halloween's most spooky tunes with plenty of soundtracks that will set your mood as it plays in the century-old opera house. . Where you can get dressed in your favorite costumes. The event ends with the witch doctor, the werewolves of London, and many more horrifying characters.
Experience the family-friendly Halloween weekend plan at the mile-high ranch. The event includes swap monster meet and greets, a magic show, games, and activities like a scorpion hunt and a chance to tour a haunted miner's cabin. The location gives you a fun mountain outing with home comforts. The Halloween events are focused on providing you with an adrenaline rush.
This company offers you various options for finding your haunted tour. They offer downtown flagstaff a haunted history tour, a mountain town of madness (adult only), a haunted pub crawl, and a return from the grave with Dreadful Dre. As we know, flagstaff's history is inseparably tied to the railroads as the incidents took place, like fires, accidents, and rivalries.


Arizona Shuttle is your travel partner, ensuring a safe and fastest trip. We provide SUVs, shuttle service, and pre-booked luxury cars to fit your needs and comfort. We provide flexibility in making changes in date and time without any charges, and our drivers are experts. So book your ride today, and for more information, contact (480) 710-3441.