In Arizona's Grand Canyon National Park, the Hermit Trail is a hiking trail. For more experienced canyon hikers, this trail leads to a historic area of the Grand Canyon and provides a more difficult route to the Colorado River.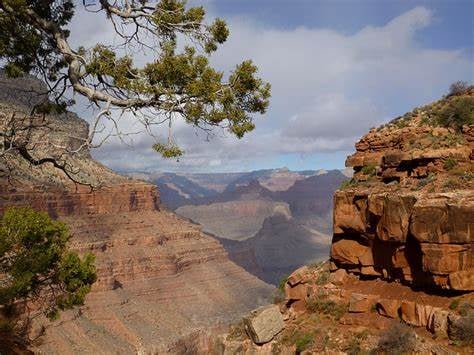 Access To The Trail
The trailhead is 0.25 mile (0.40 km) southwest of Hermit's Rest on the Grand Canyon's South Rim. Shuttle buses run from Grand Canyon Village to the Hermit Road trailhead. The road is closed to private vehicles from April to October each year but is open to all traffic the rest of the year. The only exceptions are vehicles with government-issued handicap placards and backpackers with valid permits to camp overnight in the Hermit use area. The gate code can be obtained by visiting the park's Backcountry Information Center.
The Hermit Trail is classified as a threshold trail by Grand Canyon National Park and is not officially maintained. The trail is rutted in several places, and the once-beautiful stonework on the upper half of the trail is crumbling and rough.
Numerous rockslides cut through the trail, necessitating rock scrambling and route finding. On March 1, 1983, a large section of Supai Group rock split away from a cliff face and scattered down the Hermit Canyon, severing the Hermit Trail. In a third location, a rockslide from the early 1930s cuts through the trail. These trail breaks necessitate scrambling, but they are well-marked with cairns.
Condition Of The Trail
Discover this 28.2-kilometer out-and-back trail near the Grand Canyon in Arizona. It is widely regarded as a difficult route, with a completion time of 10 hours and 21 minutes on average. Despite the fact that this is a popular backpacking, birding, and camping trail, you can find solitude during the quieter hours of the day. The trail is open year-round and is a beautiful place to visit anytime. Dogs are not permitted on this trail, so leave them at home.
This trail was built by horse thieves in the last decade of the nineteenth century, but it was later improved by various prospectors of the time. The Atchison, Topeka, and Santa Fe Railway expanded the trail around 1910 to compete with the Camerons' Bright Angel Trail, which charged a toll at the time.


Explore and experience these natural wonders, and the Arizona shuttle is available to help you along the way. We offer simple booking as well as door-to-door service. We provide professional chauffeurs as well as uniformed drivers and clean vehicles. Their mission is to create lifetime customer loyalty by exceeding their service expectations. We offer shuttle and sedan service for any occasion. We guarantee safe rides because we conduct background checks and provide door-to-door service, which eliminates the need to wait at bus stops and saves money on taxi fares. So reserve your ride with us.