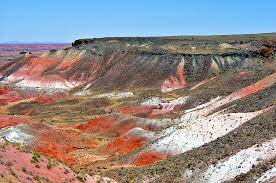 The Wave is a unique sandstone rock formation in the Vermilion Cliffs National Monument in northern Arizona. It is known for its striking patterns, colors, and unique shape. It's a popular spot for photographers and hikers. However, due to its remote location and the fragile nature of the terrain, access to The Wave is highly regulated by the Bureau of Land Management (BLM). The hike to The Wave is about 2 miles round trip, and it's considered moderate to difficult, with some steep inclines and uneven terrain.
Jerome is a former mining town located on Cleopatra Hill in Arizona. It was once one of the largest copper mining towns in the state, and it has a rich history and architecture that reflects its past. The town is built on the side of a steep hill and offers panoramic views of the surrounding area. The city also has several museums and exhibits, including the Jerome Historical Society Museum, which tells the story of the town's mining history, and the Mine Museum, which is located in an old mine and offers tours of the underground tunnels.
Tonto Natural Bridge State Park is in the Tonto National Forest in Arizona. The park is home to Tonto Natural Bridge, one of the largest natural travertine bridges in the world. The bridge is formed by the erosion of the creek that flows underneath it and is over 183 feet high and 150 feet wide. The bridge is made of travertine, a mineral deposit that forms from the precipitation of calcium carbonate from groundwater. It's a stunning geological formation that took millions of years to form. The bridge is also accessible by a paved trail and is wheelchair accessible.
The Painted Desert is a region of brightly-colored badlands located in northeastern Arizona. It covers a vast area and is part of the Petrified Forest National Park, which features one of the world's largest and most colorful concentrations of petrified wood. The Painted Desert is popular for its colorful rock formations and landscapes, resulting from millions of years of erosion and weathering. The colors of the rocks are due to the presence of different minerals and iron compounds in the rock layers. The Painted Desert Rim Trail is a 3-mile hike that offers panoramic views of the Painted Desert and the Petrified Forest.
Arizona shuttle is a transportation company that offers shuttle services throughout Arizona. We provide daily shared ride shuttle service from Phoenix Sky Harbor International Airport to various destinations such as Sedona, Flagstaff, the Grand Canyon, and many other destinations in Arizona. Our services include private charter services for groups and individuals, with flexible and convenient transportation services to meet the needs of their customers. You can book our service by visiting our website.