The Japanese Friendship Garden of Phoenix is a Japanese stroll garden, a joint project of the sister cities Phoenix, Arizona, and Himeji, Japan. The name is a combination of three Japanese words. The Japanese named it Rohō-en. In 2004, it was called Phoenix Point of Pride by the City of Phoenix.


Himeji, Japan became a Phoenix Sister City in November 1976. The garden is known for its shared cultural vision of the cities of Phoenix and Himeji. This garden is a non-profit organization in partnership with the City of Phoenix parks and recreation department and the Sister City of Himeji, Japan. The park opened to the public in the year 2002. The two gardens actively promote each other's gardens as signed in the sister garden affiliation in 2017. It can be described as a little park with beautiful Japanese sculptures and plants among the ponds and streams joining the park's natural features.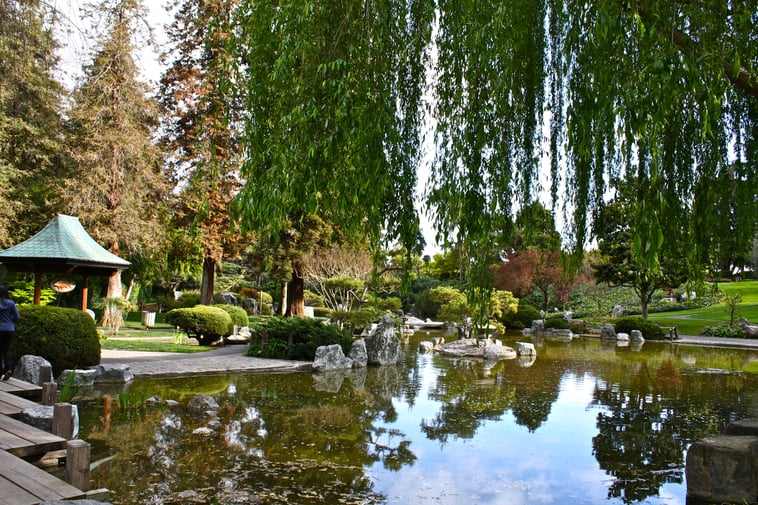 This park features :
Stroll Garden this place gives you the look of its central ponds and waterfalls, creating a refreshing ambiance for its visitors. And giving them a break from the worries of their hectic lifestyles.


Tea Garden, which includes a tea house serving authentic tea, has been practiced for 25 years. The tea house opens once per month for the ceremonies as per reservation.


A Stone Garden, this place exhibits all varieties of stone and their beautiful creations. This place features several stone lanterns, a massive stone pagoda, and many stone bridges over the water bodies.


A Courtyard Garden is a place proven to be designed to give you a novel experience. This place can inspire you.


These gardens have a collection of 1,500 tons of handpicked rock, stone footbridges, lanterns, and over 50 varieties of plants, with streams, waterfalls, and a koi pond consisting of over 300 koi fish. These handpicked rocks are collected from quarries, lake shores, steam beds, and many such places. The plants showcased here are chosen as they can withstand the desert's vigorous environment and also showcase the serenity of a Japanese garden.

This place can give you the experience of Japanese culture and feels without having to travel that far. Our services are available 24/7. We provide SUVs, shuttle service, and pre-booked limos to enjoy the luxuries. Book your ride now for the best experiences and memory creation journey. For more information, contact us at (480) 710-3441.