Prescott, Arizona, is a city steeped in cowboy history and culture, making it the perfect destination for anyone interested in experiencing the Wild West. From rodeos to Western events, there's no shortage of opportunities to immerse yourself in the cowboy lifestyle. And with Arizona Shuttle, getting around the city has always been challenging. Here's a guide to a few of the best Western experiences you can have in Prescott.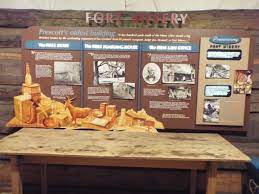 Visit the Sharlot Hall Museum
The Sharlot Hall Museum is a must-visit destination for anyone interested in the culture and history of the Wild West. The museum features exhibits on Native American cultures, the mining industry, and the lives of pioneers and cowboys. Be sure to check out Frontier Village, a recreated Old West town that gives visitors a glimpse of what life was like in the 1800s.
Attend a Rodeo
Prescott is known for its rodeos, and a good reason. The city is home to a few of the best rodeos in the country, including the World's Oldest Rodeo, which takes place every July. At the Rodeo, you'll see cowboys and cowgirls compete in bull riding, barrel racing, and steer wrestling. It's a thrilling spectacle that's not to be missed.
Take a Western Trail Ride
For an authentic Wild West experience, take a trail ride through the stunning Arizona countryside. Several ranches in Prescott offer guided horseback rides through the desert, with views of the mountains and canyons that will take your breath away. It's a great way to experience the rugged beauty of the Southwest and get in touch with your inner cowboy.
Visit Whiskey Row
Whiskey Row is a historic street in downtown Prescott that's home to some of the city's oldest and most iconic saloons. The road has a storied past, with famous cowboys and outlaws like Doc Holliday and Wyatt Earp having spent time there. Today, Whiskey Row is a popular destination for locals and tourists, with live music, great food, and plenty of whiskeys.
Check out a Western Event
Prescott is home to several Western events throughout the year, from gun shows to chuckwagon cook-offs. The Arizona Cowboy Poets Gathering, held every August, is a three-day festival celebrating cowboy poetry's art and culture. It's a unique and entertaining event that's to be noticed.
With Arizona Shuttle, getting around Prescott and experiencing all of the city's Western attractions is a breeze. Our comfortable, air-conditioned shuttles will get you where you need to visit safely and on time, so you can focus on enjoying the Wild West.