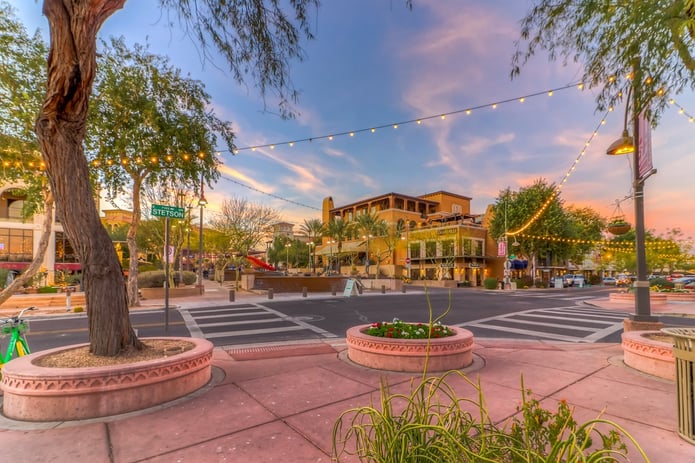 Visit the Scottsdale Museum of Contemporary Art.
The Scottsdale Museum of Contemporary Art is a must-see destination for art lovers. The museum features various rotating exhibitions showcasing contemporary art and design worldwide. The museum offers a variety of educational programs and events, such as lectures, tours, and workshops, that give visitors more profound insights into the art and artists on display.


Take a hike in the McDowell Sonoran Preserve.
The McDowell Sonoran Preserve is popular for hiking, biking, and horseback riding. It offers more than 330 miles of trails that allow visitors to explore the Sonoran Desert's natural beauty. It's essential to be prepared for the hike and, bring enough water, snacks, sunscreen, and wear appropriate footwear. Before heading out, it's also a good idea to check the weather forecast, trail conditions, and any trail closures. Pets are not permitted on the trails.


Enjoy the nightlife in Scottsdale's famous "Main Street."
Old Town Scottsdale, also known as "Main Street," is a popular destination for nightlife in Scottsdale. The area features a variety of bars, clubs, and restaurants that offer something for everyone. Old Town Scottsdale is also home to various other entertainment options, such as comedy clubs, karaoke bars, and dance clubs, so there is plenty to see and do in the evening.


Visit the Scottsdale Fashion Square.
The Scottsdale Fashion Square is one of the largest shopping centers in the Southwest. It features luxury retailers and restaurants, several department stores, and a wide variety of specialty shops. The mall also features a variety of dining options, such as The Cheesecake Factory, The Capital Grille, and True Food Kitchen. It also offers a variety of entertainment options, such as a 14-screen AMC Theatre and a comedy club. The mall is open all week and offers complimentary valet parking, personal shoppers, and a concierge service.


Take a scenic drive through Pinnacle Peak Park.
Pinnacle Peak Park is a beautiful natural area in North Scottsdale that offers visitors a chance to experience the natural beauty of the Sonoran Desert. The park features various hiking trails ranging from easy nature walks to strenuous climbs to the summit of Pinnacle Peak. The park also features a scenic drive that winds through the park and offers excellent views of the surrounding mountains and desert. The drive is 3.2 miles long, a one-way road, and it is paved, so it's suitable for all vehicles.



Arizona Shuttle is a transportation service that provides transportation to and from various locations within Arizona, including Phoenix, Tucson, Sedona, and Flagstaff. Our service is perfect for solo travelers, groups, and families. A service is an excellent option for those who wish to prevent the hassle and expense of renting a car or for those who prefer not to drive. Our service is perfect for solo travelers, groups, and families. For more information, contact (480) 710-3441.