Yuma is a city located in southwestern Arizona, United States. It is the county seat of Yuma County and is situated in the lower Colorado River Valley, near the border with California and the Mexican state of Sonora. The city is known for its warm climate and agricultural industry, particularly its production of winter vegetables. It is also home to Marine Corps Air Station Yuma and the Yuma Proving Ground, a sizeable military testing facility.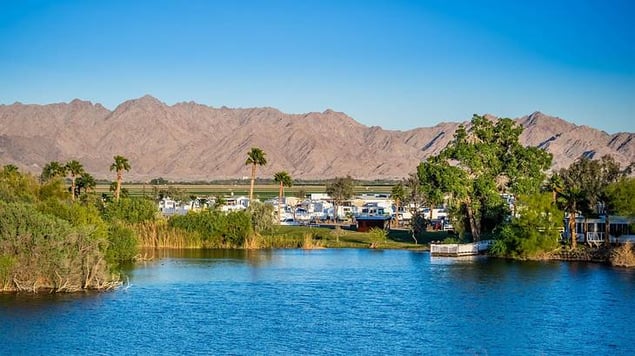 The Yuma Territorial Prison State Historical Park is located in Yuma, Arizona. The park preserves the site of the Yuma Territorial Prison, which was in operation from 1876 to 1909. It is now a museum open to the public, which features exhibits and tours of the prison, including the cells, guard towers, and other prison buildings. Visitors can also see the prison graveyard and learn about the prison's history and the lives of the inmates there.
Yuma Crossing National Heritage Area is a partnership program between the National Park Service and local organizations to preserve, protect, and interpret the lower Colorado River Valley's natural, cultural, and historical resources. The Heritage Area also encompasses the Yuma Crossing State Heritage Area. This state park features a replica of the original Yuma Crossing, a significant transportation route for people and goods between California and Arizona and Mexico and the Southwest.
The Yuma Art Center aims to promote and support the arts in the community by providing exhibitions, classes, and programming that encourages creativity, learning, and appreciation of the arts. The center features several galleries that showcase the works of local, regional, and national artists and offers various art classes and workshops for both adults and children. It is a great place to learn and appreciate art while supporting local artists.
An Escape Room is an interactive game where players are locked in a room and must use clues, puzzles, and riddles to escape within a set time limit. Escape Room Yuma is a business that offers this type of game experience in Yuma, Arizona. The escape rooms at Escape Room Yuma are designed to be challenging and engaging and typically have a specific theme, such as a murder mystery or a historical event. Escape Room Yuma is an excellent place for a unique entertainment experience for visitors or locals in Yuma.
Arizona Shuttle is a transportation company that provides shuttle services in Arizona, United States. They offer scheduled shuttle services between major cities and towns in the state. The company is known for its on-time service, comfortable vehicles, and experienced drivers. It is an excellent option for travelers looking for a convenient, reliable, and cost-effective way to get around Arizona. For more information, contact (480) 710-3441.