Arizona shuttle has listed the decisions which will make your winter holidays memorable. The winters in Arizona can give you the best snowfall experience, and the beauty of snow covers mountains. The desert nights and mornings can get chilly, so it's an ideal time to visit the nearby locations. January is believed to be the coldest month, as the temperature drops to 44 degrees Fahrenheit.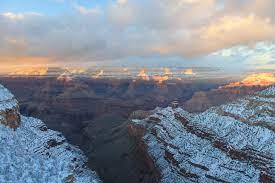 Must Visit Winter Spots In Arizona
Las Noches De Las Luminarias
Walk into the holiday spirits at the desert botanical garden with Las Noches De Las Luminarias. Make your way through the sparkling and twinkling lights with 8,000 glimmering luminaria packs. And enjoy the dazzling sparkles of wild-raising animals, with the musical performances to entertain you that line the gardens trail to lead you the picture-perfect moments all along the path. In addition, there is a new introduction of bold and lyrical large-scale sculptures of Playing with Stars by Rotraut. Where the Ottosen Gallery will be filled with sculptures and paintings by Rotraut Klein-Moquay.
The lights festival will brighten your holiday mood as this is northern America's most significant light and lantern festival at the Arizona State Fair. The exhibits here are brought from various societies and developments worldwide, making them unique. That includes over 65 splendid displays, the assured experience of global culture and cuisine, and different rides and games in phoenix.
Arizona temperature is an ideal season to enjoy the Arizona Snowbowl. Where you play on the white-covered snow lands and mountains, it is located on the top of Mount Humphreys and is the tallest point in the state. The peaks were formed between 500,000 and 1,000,000 years ago.
As the name suggests, this place exhibits animal-shaped lanterns and light displays along with brand-new lake-side music and light show giving you a glimpse of the world. You can find moving lights, live reindeer, photographs with Santa, and more such astonishing beauties. These are held during November and December, making the sparkling lights the primary attraction.
Take a trip in The Grand Canyon Railway's Polar Express to get the best captures of the north pole. On the journey, you meet Santa and his reindeer to make the trip memorable for kids. Light up your spirits when the train arrives and enjoy the journey while sipping hot chocolate and cookie treats.


Give yourself the best winter getaway while enjoying the sparkling experiences with Arizona Shuttle. We provide service 24/7. Assuring your safety with a door-to-door pickup facility and flexibility in making changes in date and time without any charges. Our services are affordable, which makes us an ideal choice as your travel partner. We provide SUVs, shuttle service, and pre-booked luxury cars. Book your ride now, and for more information, contact (480) 710-3441.