Hanging out with friends is more important than we can think of. Having friends to talk to and spend time with can provide emotional support and a sense of belonging. Spending time with friends can be a great way to relax and take your mind off of stress. Friends can provide valuable perspectives, advice, and support for personal growth and self-improvement. Hanging out with friends can be a great way to have fun and enjoy new experiences. Studies have shown that people with strong social connections have better physical and mental health. Having friends, you can rely on and enjoy spending time with can improve your overall well-being and happiness. Additionally, it also helps to develop healthy relationships, good communication, and problem-solving skills. Phoenix has many great hangout spots. Here's a list of a few places where you can hang out with your friends: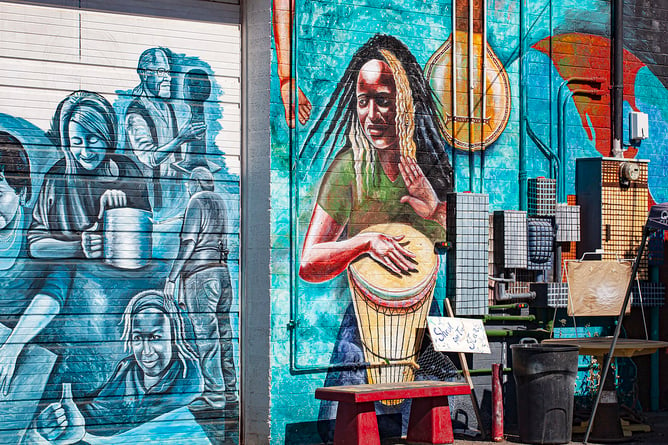 The Roosevelt Row Arts District
The Roosevelt Row Arts District, also known as "RoRo," is an arts and cultural district located in downtown Phoenix, Arizona. The area is known for its vibrant street art, murals, and collection of galleries, studios, and creative spaces. It is a popular spot for locals and visitors to explore and enjoy the area's art and culture.
The district is named after Roosevelt Street, the main street that runs through the area. The district is home to many art galleries, including the monOrchid Gallery and the Modified Arts Gallery, which showcase work by local and national artists. The district also includes The Roosevelt Row A.R.T.S. Market, a monthly market that features handmade goods from local artists, craftspeople, and designers.


The Phoenix Public Market
The Phoenix Public Market is a community-oriented space that offers locally grown produce, food trucks, and other vendors. It is located in the downtown area of Phoenix, Arizona, and is open to the public on Wednesdays and Saturdays. The market features a variety of vendors selling fresh produce, baked goods, cheeses, meats, and other specialty food items. The Phoenix Public Market also features several food trucks, offering a variety of cuisines, from tacos and sandwiches to ice cream and coffee. Additionally, the market has many crafts vendors selling handmade goods such as jewelry, pottery, and textiles. Several community and educational programs, such as cooking classes and other activities, are also offered at the market.


The Phoenix Mercury Lounge
The Phoenix Mercury Lounge is a rooftop lounge located in Phoenix, Arizona. The lounge is on the roof of a building and features outdoor seating with various seating areas, including comfortable sofas, tables, and chairs. The lounge offers excellent city views and a laid-back atmosphere, making it a popular spot for locals and visitors. The Phoenix Mercury Lounge serves various drinks, including cocktails, wine, and beer. The lounge also has a food menu with small plates, appetizers, and entrees. The lounge is open in the evening and is a great place to enjoy a drink while watching the sunset or looking at the city lights.


Arizona Shuttle will help you plan your ride to these amazing hang-out spots in Phoenix. You can book our Phoenix to Prescott shuttle service. We will pick you up and drop you off at your exact locations. Almost all rides are non-stop in nice cars, SUVs, or shuttles. We are available 24/7. You can also change the time or date with us without being charged. There's less hassle, and you save more money with us.
The Texas Shuttle is safer, affordable, flexible, and more convenient than any other ride.Book a ride with us this season to experience that warm and stress-free holiday vibe. It even reduces the unwanted cost incurred on the fare of taxis and buses to reach home. We provide professional chauffeurs with uniform and clean vehicles. Our mission is to create lifetime customer loyalty by exceeding our customer's expectations in terms of service.