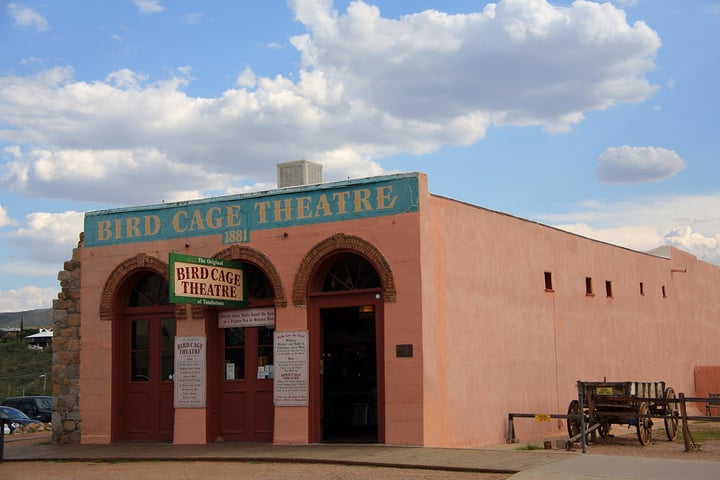 Have you ever felt the presence of supernatural forces around you? Do you believe in ghosts and the spirit world? Humans, by nature, are always curious about the unknown and unexplainable things. We all have had experiences that are totally out of the blue and spooky to the core. It's always fun to unravel those mysteries—especially the secrets of the haunted places. Arizona has quite a few haunted places of its own. Here's a list of the few that you can visit to have a spooky exploration of your own:
1. Birdcage Theatre
Birdcage is an enormous haunted space in Arizona. This theater is located at East Allen Street of Tombstone City. People say that it's home to 26 ghosts. This place has quite a history to it. Birdcage Theatre was a brothel that saw over 16 bloody, severe fights. Visitors have claimed that they have encountered the ghosts of sex workers and cowboys.
2. Vulture Goldmine
Vulture Goldmine is one of the scariest places in Arizona. It's located in one of Arizona's most haunted ghost towns, Wickenburg. There was a time when it was known as the reason behind the foundation and development of the central towns of Arizona. Many have claimed that they witnessed apparitional appearances, hard rocks being thrown, the smell of food being cooked, and the sound of kitchen items.
3. Copper Queen Hotel
Copper Queen Hotel is quite interesting in terms of the haunted places in Arizona. This place is a restaurant and saloon and is considered one of Arizona's major haunted attractions. People have claimed that there's more than one ghost haunting this place.

Arizona Shuttle will help you plan your ride to these scary haunted places in Arizona. You can book our Phoenix to Prescott shuttle service. We will pick you up and drop you off at your exact locations. Almost all rides are non-stop in nice cars, SUVs, or shuttles. We are available 24/7. You can also change the time or date with us without being charged. There's less hassle, and you save more money with us. The Texas Shuttle is safer, affordable, flexible, and more convenient than any other ride. Book a ride with us this season to experience that warm and stress-free holiday vibe. It even reduces the unwanted cost incurred on the fare of taxis and buses to reach home. We provide professional chauffeurs with uniform and clean vehicles. Our mission is to create lifetime customer loyalty by exceeding our customer's expectations in terms of service.