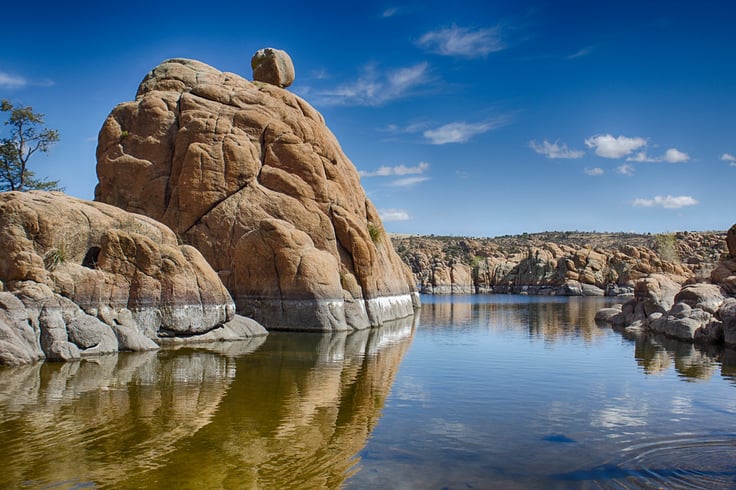 Hiking is such a great activity. It helps you clear your mind, to get new perspectives in life, and it also makes you so much more patient. Hiking helps us in connecting to nature. We get to see wildlife in all its glory. Hiking is also suitable for our health. It keeps us healthy both physically and mentally. Prescott has many hiking trails. Here's a list of a few trails that you must check out:
1. Watson Lake Loop Trail
Watson Lake Loop Trail will take you through the massive granite rock formations. This place is said to have some of the best views in Prescott. The hiking trail is 4.7 miles long and can be accessed from several points. The best point to start the hike is from Watson Lake Park itself. You can start the trek from the boat ramp area of the park. Here you can find plenty of parking for a minimal fee.
2. Thumb Butte Trail
The Thumb Butte Trail has a length of 2.5 miles with 680 feet of elevation. The trail runs through tall pines at the base. But the vegetation gets smaller as you go up the trail. This trail is refreshing as it is more open to the sun. Thumb Butte Trail has restrooms and picnic areas at the base point where you can chill for hours.
3. Constellation Trails
The Constellation Trails offer you short interconnecting trails that will take you on an unexpected journey. You can also choose from hiking alongside the edge of the rocks or just getting up on them and exploring the granite landscape. The Constellation Trails begins at the Phippen Museum.

Arizona Shuttle will help you plan your ride to these great hiking trails in Prescott. You can book our Phoenix to Prescott shuttle service. We will pick you up and drop you off at your exact locations. Almost all rides are non-stop in nice cars, SUVs, or shuttles. We are available 24/7. You can also change the time or date with us without being charged. There's less hassle, and you save more money with us. The Texas Shuttle is safer, affordable, flexible, and more convenient than any other ride. Book a ride with us this season to experience that warm and stress-free holiday vibe. It even reduces the unwanted cost incurred on the fare of taxis and buses to reach home. We provide professional chauffeurs with uniform and clean vehicles. Our mission is to create lifetime customer loyalty by exceeding our customer's expectations in terms of service.