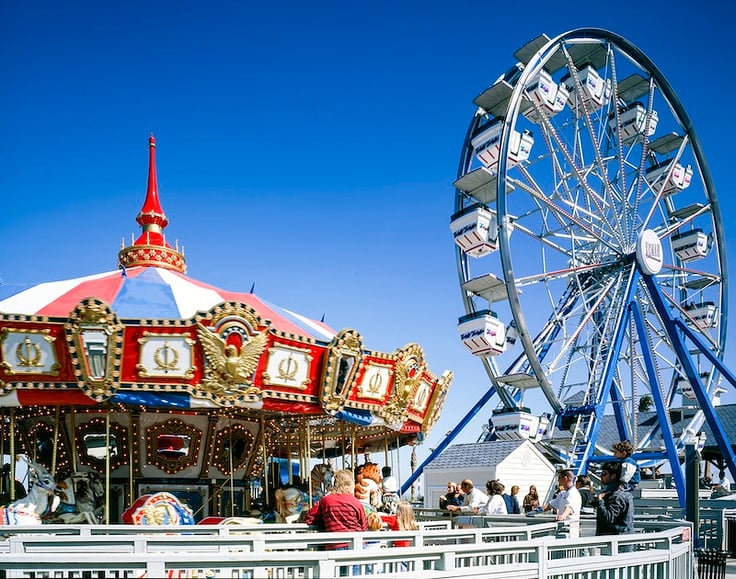 There's automatically a smile on our faces when we hear about Theme Parks. Young or Old, it satisfies every soul. We all work so hard every day, worrying about a thousand little things. We hardly give ourselves a break or a treat that we deserve. Theme Park is just the indulgence that you might be looking for. This is where you and your kids will have a blast together. Arizona has many theme parks. Here's a list of a few that you must go to:
1. Enchanted Island Phoenix
Enchanted Island Phoenix is a theme park for everyone. It's located at 1202 W Encanto Blvd, Phoenix, AZ. This place is open from Friday to Sunday - 5 to 9.30 p.m. There are many things to get engaged like CP Huntington Train, pedal boats, bumper boats, parachute tower, red baron, dragon wagon, mini enterprise, and many more. People also come here for picnics, company outings, and weddings.
2. Castles N Coasters In Phoenix
Castles N Coasters is located at 9445 N Metro Pkwy E, Phoenix, AZ. This is one of the biggest amusement parks in the state. This park is quite popular because of all the fantastic rides it has. The place has go-karts, mini-golf, a zip line, a 3D motion theatre, and many other things.
3. Old Tombstone Wild West Theme Park
Old Tombstone Wild West Theme Park is an excellent place for people to visit and see something unique. This place is famous for its entertainment and the longest-running professional gunfight show. It's located at 339 S 4th St, Tombstone, AZ.

Arizona Shuttle will help you plan your ride to these fun theme parks in Arizona. You can book our Phoenix to Prescott shuttle service. We will pick you up and drop you off at your exact locations. Almost all rides are non-stop in nice cars, SUVs, or shuttles. We are available 24/7. You can also change the time or date with us without being charged. There's less hassle, and you save more money with us. The Texas Shuttle is safer, affordable, flexible, and more convenient than any other ride. Book a ride with us this season to experience that warm and stress-free holiday vibe. It even reduces the unwanted cost incurred on the fare of taxis and buses to reach home. We provide professional chauffeurs with uniform and clean vehicles. Our mission is to create lifetime customer loyalty by exceeding our customer's expectations in terms of service.